10 Things To Do On Mackinac Island
September 10, 2019
Mackinac Island is one of the most beautiful places in Michigan to visit. You'll want to know about the top 10 Things To Do on Mackinac Island, a car free, historical and scenic island.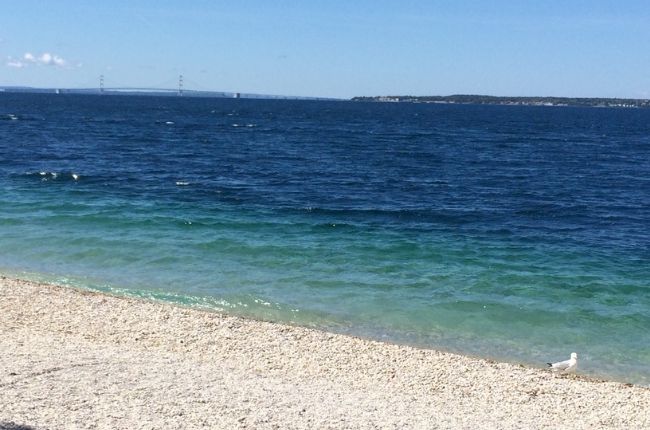 Mackinac Island has got to be one of my favorite places to visit in Michigan. The island itself is only about 8 miles around and sits in Lake Huron in-between the upper and lower peninsula of Michigan. However in those 8 miles, there are so many things to do and see in this quaint little place known as Mackinac Island.
10 Things To Do On Mackinac Island:
Visit the Grand Hotel: Rates are a touch different since the hotel opened in 1887, ranging from $3.00-$5.00 a night. This beautiful hotel opened as a summer getaway for vacationers. But you don't have to stay to visit, you can pay an admissions fee and visit during a day trip too. You will first notice the Grand Hotel's front porch, which is the longest in the world. The grounds are well maintained with beautiful flowers and plants. While the hotel has kept up with modern time, the inside is still maintained in a victorian fashion. A must see for anyone visiting the island.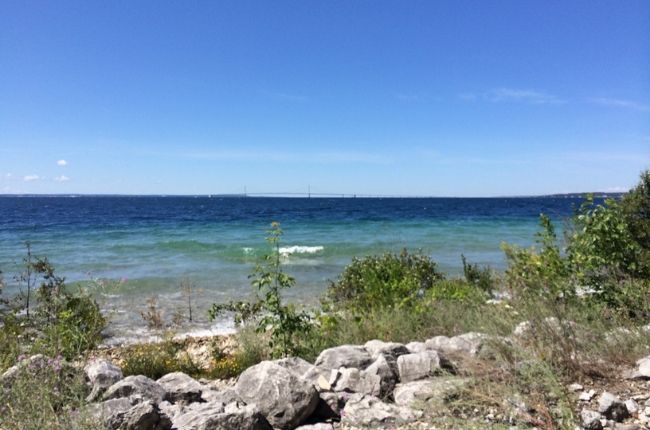 2. Visit Fort Mackinac: Fort Mackinac is a former British and American Out post, a former home for soldiers and their families and now a historical tourist spot. The fort which sits at the top of the hill, overlooks the city and the bay. Tours by costumed individuals are scheduled throughout the day with many exhibits you will want to see. Fort Mackinac will keep your attention with a great history lesson.
3. Ride a Horse-Drawn Carriage: As you might already know, no cars are allowed on the island. You can get around by horse-drawn carriages, riding bike or walking. With tickets available at the ticket window, horse-drawn carriage rides provide an authentic way of transportation. They are available for tours, serve as taxis and available for weddings.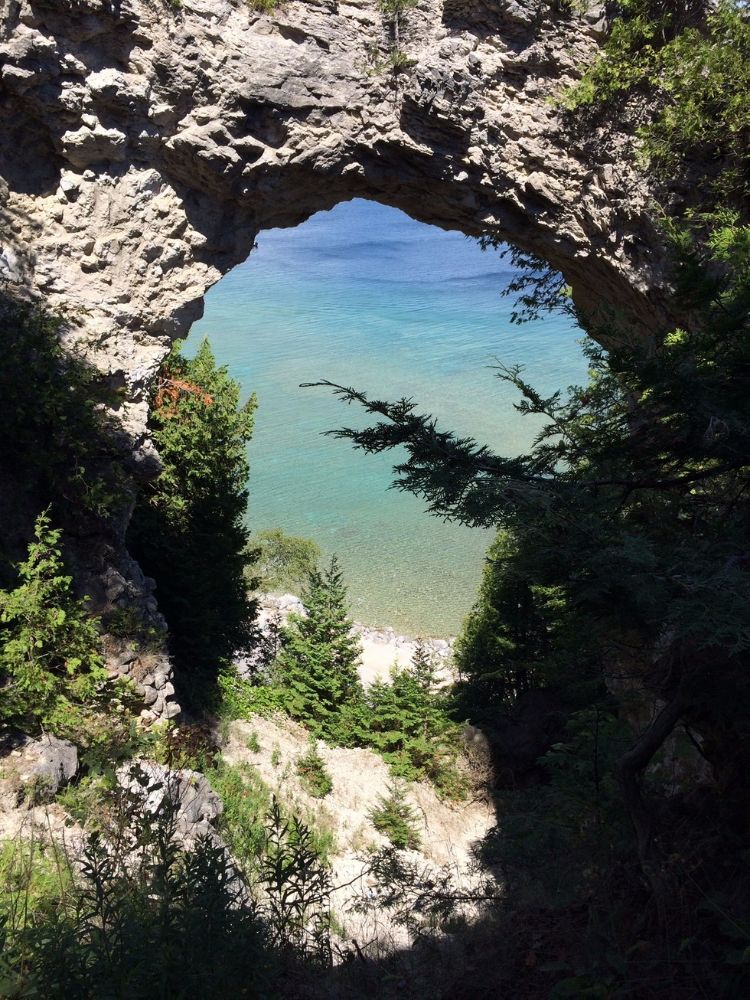 4. Bike the Island: You can choose to bring your own bike along on the ferry or rent a bike from the island. Once you have a bike, you can pedal the 8 miles around the island, which takes about an hour or more if you stop and enjoy the scenery and sites. Eight miles might sound like a lot, but they fly by with all to see. Just don't forget to bring a bottle of water.
5. Visit Arch Rock: While on your scenic bike ride, you'll want to visit Arch Rock. Arch Rock is a natural limestone arch formed during the post-glacial period. You can visit this attraction via the top or climb the stairs from the bottom while you're riding by this amazing natural rock formation.
6. Eat Fudge: Choose from over 14 fudge shops on the island. The island is known for this sweet treat, with one shop offering 23 flavors. If you don't choose to bring some home, at least stop in for a sample.
7. Butterfly House: This house is filled with hundreds of beautiful, rare, and colorful butterflies. The butterflies fly around and if you're lucky enough they will land on you, offering a great photo opportunity. If you love this idea you won't want to miss Insect World and the turtle pond.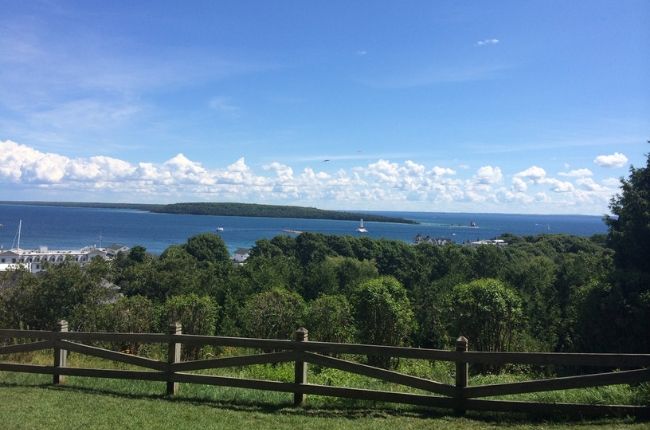 8. Golf: Golf at one of the two courses on Mackinac Island, The Jewel at the Grand Hotel or the Wawashkamo Golf Club. The Jewel is an 18 hole course with views of the Straights of Mackinac. The Wawashkamo is a nine-hole links golf course, one of Michigan's oldest active golf courses. Either would be a great choice and fun activity to do while on the island.
9. Kayak or Paddleboard: Great Turtle Kayak Tours offer kayaking and paddleboarding on Mackinac Island with instructional tours, which is fun for all ages. This is a great way to enjoy the warm weather and beautiful lake while sightseeing.
10. Shopping: A trip cannot be complete without shopping at a few of the many stores that line the downtown area. Bring home clothing, food, jewelry, or fine art from one of the galleries.
You might also like:
Insider Tips for Visiting Mackinac Island: Friends and acquaintances are forever asking for an insider's view of Mackinac Island. Here are a few things I've learned over the years:
Can You Answer These 20 Michigan Trivia Questions?: Hello, there fellow Michigander! How well do you know your state? Let's test your knowledge with some Michigan trivia questions!
16 Things you Must Do in Michigan this Summer: There's no better place to experience summer than Michigan our miles of sandy beaches, rivers, lakes, and forests. There's so much to do, you'll never cram it all into one summer. But why not have fun trying? This list of must-do Michigan summer activities will give you a good start.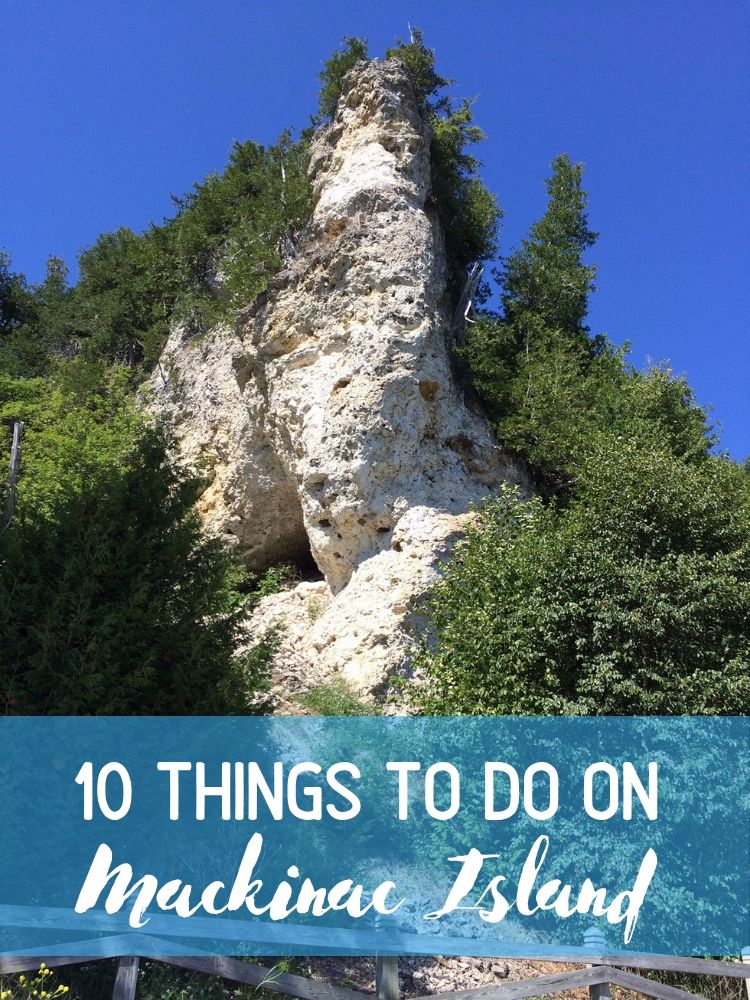 `