5 Michigan Fall Themed Beers
September 25, 2017
It's October and we finally got our Indian Summer up here in Northern Michigan. It's been in the low 90's that last few days and I am loving it! We've been hitting the beach after school and on weekends and taking the pontoon boat out in the evenings. Even the trees are changing color and you can feel fall creeping in. Seeing the fall colors from the boat out on Crooked Lake feels special, especially when the kids are jumping off the boat and we're visiting with friends, cold beverages in hand.
Even with the warm weather, pumpkin season is almost in full swing. I drive by Bill's Farm Market everyday and the pumpkins, gourds and corn husks are out for autumn. I'm sure hayrides are not far behind. With it being fall, fall themed beers are all the rage. I'm not a huge beer fan but I do enjoy a delicious cocktail so I can appreciate and fine crafted beverage on a crisp fall day.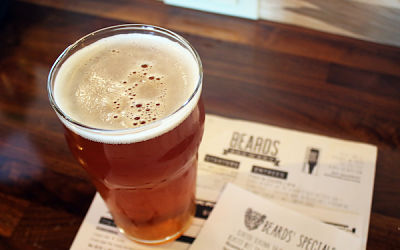 (photo courtesy of Beards Brewery) 
This week on the blog, I am sharing 5 Michigan fall themed beers with you. Brewery's are hugely popular and popping up every where in Michigan. In Petoskey, Beard's Brewery seems to be top dog as far as brewery's go and having moved into their new location recently, business is booming. With it being fall, now is the perfect time to visit Northern Michigan. Kids are back in school and a lot of summer tourists are gone. Petoskey isn't crowded and it's the perfect time for a color tour and fall tasty fall beer tasting.
5 Michigan Fall Themed Beers to Try This Autumn
#1. Silent Planet from Beards Brewery, Petoskey – Fruity, mild front with a balanced earthy hop and toasty, caramel malt finish. Silent Planet was inspired by C.S Lewis and traditional British pub ales. Brewed annually to kick off the C.S. Lewis Festival in Petoskey. This special beer is brewed using all hops available to brewers in England during C.S. Lewis' lifetime and is designed to replicate British ales that may have been available to Lewis in his local pub.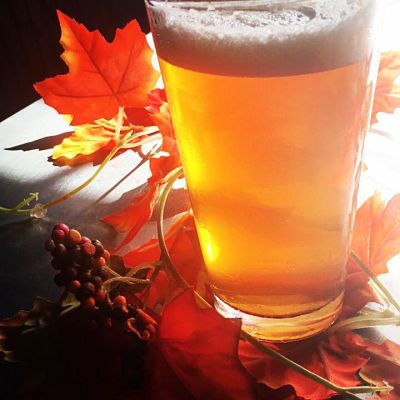 (Photo courtesy of North Peak Brewing Company) 
#2. Dauntless or Hooligan from North Peak Brewing Company, Traverse City – If you love pumpkin and crisp fall days, North Peak's Hooligan beer only available during the fall and teaming with pumpkin flavor. If you love Octoberfest, North Peak's Dauntless is a great Oktoberfest beer to enjoy with North Peaks German Klopses Braised Meatballs.
#3. Carrot Cake from Shorts Brewing Company, Bellaire – An American brown ale brewed with carrots and spices, Short's Carrot Cake beer combines ginger, allspice, cinnamon, maple syrup and carrot puree in a delicious malty brew.
#4. Ichabod from New Holland Brewing Company,  Holland – Ichabod combines malted barley and real pumpkin with cinnamon and nutmeg in a delicious and inviting brew.
#5. Pumpkin Chai from Saugatuck Brewing Company, Saugatuck – A Pumpkin flavored ale brewed with herbal chai tea and pumpkin. Aromas of chai tea and subtle pumpkin notes on the nose; Flavors of chai and pumpkin make this fall seasonal stand out from typical fall beers. Perfect for a brisk autumn day.
Do you have a favorite fall beer? We would love to hear about it in the comments section!