5 Valentine Date Ideas In Northern Michigan
January 13, 2015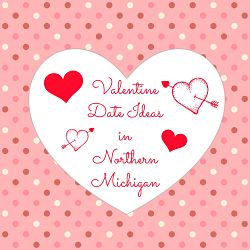 Valentines Day is right around the corner and why not plan a special day or night with that someone special? We live in one of the most gorgeous areas in the country and whether you prefer being outdoors taking in the natural beauty of winter or cuddling inside with that special someone, you are sure to find a perfect date idea on my list I'm sharing with you today!
(Photo Credit: Boyne Mountain)
#1. Outdoor fun at Boyne Mountain in Boyne Falls or Boyne Highlands in Harbor Springs. Boyne owns two convenient locations here in Northern Michigan and both have so much to offer! If you're an outdoor enthusiast and love winter, both Boyne locations have something for you: skiiing, snowshoeing, sleigh rides, dog sled rides, tubing and more! Some many activities so little time! My husband and I go ziplining all the time when we go on vacation and haven't tried Boyne's yet. I've heard it's fantastic and I think it would be super cool to try in the winter! End your date with dinner at one of Boyne's fabulous restaurants. Both Boyne locations have full dining options.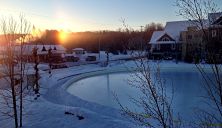 #2. Ice skating in Walloon Lake Village and then dinner at the Barrel Back restaurant. Have you tried the Barrel Back in Walloon Lake Village? If not, I insist, you must. Their menu offers a variety of food options and it's delicious. All of it. My husband and I love eating there. It is very family friendly as well, if you can't do a date night alone, so that is always a plus. The skating rink is conveniently located right next door to the Barrel Back restaurant and is open noon to 8pm on weekdays and 9AM to 8PM on weekends with skate rental available at Tommy's Marina, also next door to the ice rink. If you did end up having to take the kiddos with to dinner, ice skating afterwards would be a really fun activity after dinner. Go to the Walloon Lake Village Facebook page for more info and other dining options.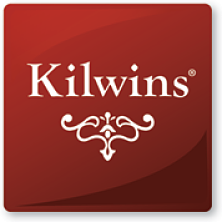 #3. Kilwin's Chocolate Kitchen Tour – Valentines Day is synonymous with chocolate, no? Everyone loves chocolate, well, almost! Kilwin's is known for the best homemade chocolate candies in our area and the ice cream is to die for. I love that they sell the ice cream to go and French Silk is my absolute favorite if you'd like to try it!
Chocolate tours run Monday-Friday from 10:00am–4:00pm on the half hour and the best part? FREE samples!! Score! And, after you're in a chocolate coma head to lunch or dinner at one of Petoskey's downtown restaurants such as Chandlers or City Park Grill.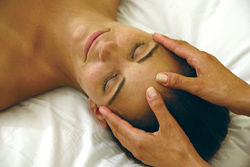 (Photo Credit: The Spa at The Inn at Bay Harbor)
#4. Winter Wonderland Spa Package at The Inn at Bay Harbor – Is relaxation and being indoors during the cold winter months more your thing? Indulge yourself and your special someone with the Winter Wonderland Spa Package. Enjoy relaxing a heavenly Gingerbread n' Butter Body Treatment or relax with a signature Petoskey Hot Stone massage. Mmmmmmm, either of those sound divine! The package even includes an overnight stay at the Inn at Bay Harbor and breakfast for two. Go here for more information.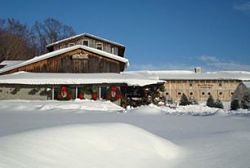 (Photo Credit: Harbor Springs Vineyard & Winery)
#5. Wine Tasting at Local Northern Michigan Winery's – Love wine? Why not make an afternoon of visiting a few of our local  local winery's sampling a variety of delicious local wines. We have several local wineries in the area to choose from.
Take a few hours to relax and sample some of the best wine here in Northern Michigan and then have dinner at a local restaurant.