8 Reasons to Make Lake Michigan your Beach Destination
July 7, 2017
If you want beaches, we got 'em! Michigan has over 3,000 miles of coastline between the four Great Lakes that lap at our shores and all of our inland lakes.(Only Alaska has more shoreline, and no one is going there to sink their toes in that frozen sand.)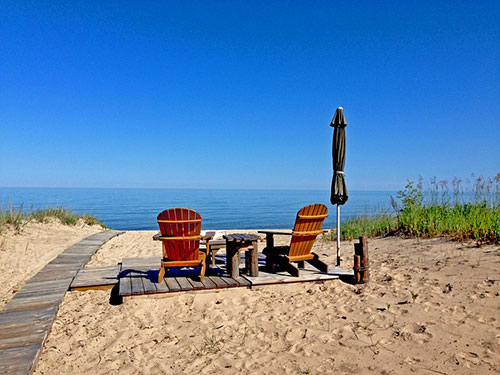 You'll find some of the finest waterfront in the state, and even the country, right here along Lake Michigan in our Western Lower Peninsula. This side of the state has been called, "The Riviera of the Midwest," with its soft, white sand and quaint beach towns full of boutique shopping and bistro dining.
You don't need to look any further than Michigan's West Coast, if you're in search of the perfect destination for a summer beach vacation. Here's why:
1. Always fresh, never salted. Standing on shore, looking out over Lake Michigan's vast waters that seem to go on forever, you might think you're at the ocean. It's true that our Great Lakes are so big they are actually inland seas that behave a bit like the ocean sometimes with big, crashing waves. Except one big difference. It's all fresh water. You never have to worry about sharks or having crusty salt in your hair.
2. Soft, sandy beaches. Some of the Great Lakes have rocky shorelines, but Lake Michigan's beaches are almost always made up of soft, white sand. The entire shoreline is a large dune system created by centuries and centuries of winds blowing from the west. Sleeping Bears Dunes, north of Traverse City, features our largest dunes, towering more than 400 feet above the water. That's a whole lot of sand!
3. Clean beaches. We're proud of our big, beautiful lake and its beaches. We locals use them ourselves every day, and we  love to show them off to visitors. So we do our best to maintain them and provide quality facilities. Almost every lakeside town features a public beach with ample parking, restrooms and changing rooms. Many even have a concession stand for refreshments and a playground for the kids.
4. Something for everyone. Pretty, little beach towns line our Lake Michigan shore from south to north, and you'll find something that fits your vacation style. Resort towns like Petoskey and Traverse City offer fine dining, boutique shopping, wine tastings and spa experiences. If you want something a little less developed, head to Arcadia or Norton Shores where you'll find wilderness beaches and small town diners.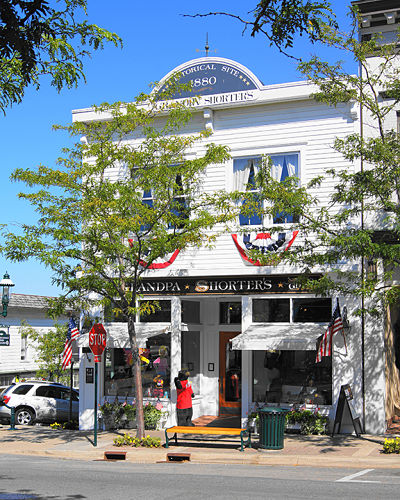 5. Outdoor adventure. Swimming and sunbathing aren't the only things to do along Lake Michigan. We have miles and miles of hiking trails up sand dunes and through pristine forests. Bike paths hug the beach. Rivers that meander into the lake provide opportunities for canoeing and kayaking. You can charter a boat for sport fishing in the Big Lake or take a pontoon out for the day on a nearby inland lake.
6. It's affordable. You don't need a big budget to vacation at the beach in Michigan. Beach house rentals and lakeside hotel rooms can be had for reasonable rates, even in the high season. Cabins and campsites are even more budget-friendly. Michigan state parks offer camping just steps away from some of our best beaches.
7. It's not so crowded. It's still a bit of a secret just how spectacular Lake Michigan beaches and towns are. That means you can usually find a spot on the sand to spread your beach blanket. Sure, during holiday weekends traffic can get a little heavy, but you can always ditch the car and walk or bike.
8. Photo opps galore. If you want to make all your friends on social media envious with your great vacation photos, Lake Michigan makes the perfect backdrop. We have spectacular sunsets every night, with prime viewing from beach. You can take a selfie in front of a storybook lighthouse or a victory photo from atop the sand dune you conquered. The beautiful scenery is endless.
There's still plenty of time left this summer to fit in a Lake Michigan beach vacation. What are you waiting for?