Bike Rentals in Petoskey
September 14, 2020
There are plenty of bike rentals in Petoskey and there's a great reason why! Petoskey has miles of paved bike paths with great views, it's a must when visiting the area.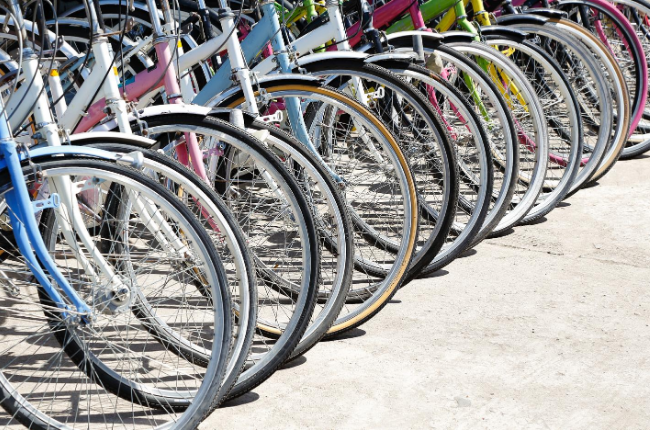 Latitude 45: Close to Petoskey's waterfront, this bike shop offers great bike rentals. This year, you will need reservations for your bike rentals. Enter the rental area prepared to ride with everything you want to bring, whether it's a backpack with water and snacks or your camera and phone for pictures along the way. Latitude 45 offers one day to week-long rentals for whatever your trip entails.
Bahnhof Sports: Located right on the Little Traverse Wheelway, offers many bike rental options from your traditional bicycle, a tandem option, trail-a-bikes, bike trailers, and even electric bikes. Rental times vary, starting at 3 hours to week-long rentals.
Boyne Country Sports: Located on the Little Traverse Wheelway, Boyne Country Sports offers great bike rentals. Call ahead or stop in to rent adult and junior bikes, trailers, and tag alongs.
Areas to ride with your bike rentals:
Bear River Valley Recreation: The Bear River offers a 1.5-mile path along the scenic Bear River. Enjoy the wooded scenery around you, watch people kayak down the river, take advantage of a few of the observation decks, or just enjoy the ride.
Little Traverse Wheelway: This paved, 26-mile path runs from Harbor Springs to Charlevoix. Stop at Bay View, Petoskey's Waterfront, or in Bay Harbor for some fun along the way. *Please note that part of the Little Traverse Wheelway is currently closed between Petoskey and Bay Harbor due to erosion.
You might also enjoy:
Scenic Bike Routes in Northern Michigan: If you are a bicyclist looking for a challenge this riding season, a couple events feature strong helpings of northern Michigan scenery.
Little Traverse Bay Ferry Co. – Public Water Transportation: Little Traverse Bay Ferry Co. is a new public water transportation ferry. The ferry unites Petoskey, Harbor Springs, and Bay Harbor, MI. Take your bike along for the adventure.
Hiking in Northern Michigan: Hiking in Northern Michigan is a great way to get outdoors, burn some calories, and see the beauty of nature.