Boyne Highlands Young Americans' Dinner Theater
August 13, 2014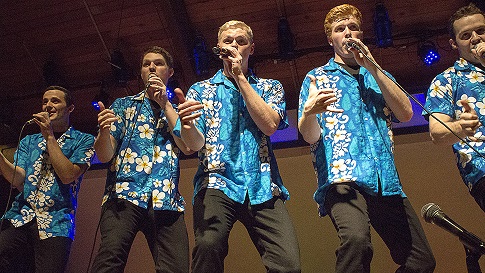 This past Monday, my family and I went to The Young Americans' dinner theater for the twelfth year in a row.  For as long as I can remember, I have gone to see the show at Boyne Highlands with my sisters, parents, grandparents, aunt and uncle, and sometimes cousins from out of state. It has always been one of my favorite family traditions and a highlight of my summer.  The food is good, the people are great, the singing and dancing is phenomenal, and when it's all rolled into one three hour evening, it's an experience I wouldn't want to miss.  I absolutely love the show and what I like to call the "post-performance high" that goes along with it, which leaves my sisters and I belting out songs and dancing around in the parking lot like idiots after almost everyone else has gone home.
As per usual, their show this year was absolutely fantastic.  The two act show, separated by incredibly rich chocolate truffle cake, was put together in honor of their first fifty years in existence and was aptly called "Celebrating Anniversary".  In the first hour-long act, they performed an array of songs and genres from the sixties on through to today, while the second was all about Broadway and musicals past, present, and future.  The Young Americans sang and danced their way through classics like The Beatles and new crazes like Frozen, and every single act was incredible.  Beyond being wonderful performers and fun, energetic people, The Young Americans are doing their part to improve the world.
Started 52 years ago by Milton C. Anderson, The Young Americans spend an insane amount of time sharing their love of performing with the world.  Through the years, they have done a total of 114 international tours, in which they put on three-day camps for local students to learn different performance skills.  The groups do more than just sing and dance and travel the world; The Young Americans College of Performing Arts, based out in California, partners with Petoskey's North Central Michigan College to teach classes in performance and education.  Many alumni are employed in various aspects of performance – from education to film to Broadway!  With over 615,000 participants worldwide, their operation is anything but small.  More locally, The Young Americans' dinner theater has been a staple at Boyne Highlands since 1978.  A handful of the performers at this year's dinner theater had had parents who had also performed on that very stage!
Their summer season at Boyne Highlands only lasts through August 23rd, so if you want to see firsthand why their shows are my favorite summer event, click here for more information!  Trust me, you certainly won't regret it.