Cheesy Cream of Broccoli Soup Recipe
January 31, 2017
Winter in Northern Michigan means spending a lot of time outdoors enjoying everything our beautiful area has to offer. Whether you are snowmobiling, snowshoeing, skiing, ice fishing or just outside building snowmen with the kids, there are so many great opportunities to get outside and get active!
After spending a few hours outside enjoying our winter wonderland, what is better than coming inside and enjoying a delicious steaming hot bowl of homemade soup? Enjoy your soup with homemade crusty bread, crackers or sandwiches and you have a filling meal. Skip the extras and enjoy as a lighter pairing or a quick and easy lunch.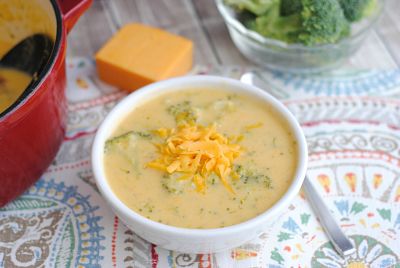 Today on the blog, I'm sharing with you a recipe for delicious cheesy cream of broccoli soup. This cheesy cream of broccoli soup is perfect for cold winter days and easy to make. Make a double batch and freeze the extra for days you need something quick and don't feel like cooking.
Best of all this cheesy cream of broccoli soup only take a few ingredients and doesn't take forever to make.
Cheesy Cream of Broccoli Soup Ingredients:
1 medium onion, diced
1/2 C. butter
1/3 C. flour
4 C. whole milk
3 C. mild cheddar cheese, shredded
salt & pepper to taste
3 C. broccoli florets
1-2 C. chicken or vegetable broth
Directions:
In a large pot or dutch oven, melt the butter and saute the onion until translucent 8-10 minutes.
Add in the 1/3 cup of flour and stir while the mixture is thickening.
Slowly add in the 4 cups of whole milk and let simmer.
Add in the broccoli florets and simmer for 15-20 minutes or until softened.
Puree 1/2 of the soup in a food processor or blender. I like having some chunks in my cream of broccoli soup so I actually use a potato masher to keep some chunks in the soup.
Add in the broth until the soup has reached your desired thickness.
*Serve with crusty bread, crackers, or sandwiches.