Coloring the Stress Away
February 24, 2016
A hobby I never thought I would step foot into as a 23 year-old- coloring. I had witnessed all the rage when the Adult Coloring Books had just come out, and I thought it was pretty neat, but certainly not something I'd ever take up myself. I can honestly say that the last time I took the time to sit down and color was probably in Elementary School. Coloring was not necessarily seen as being "artistic" when growing up and even when furthering my education as a designer after High School. So, the activity of coloring was beat out of my repertoire early on and certainly as I have matured.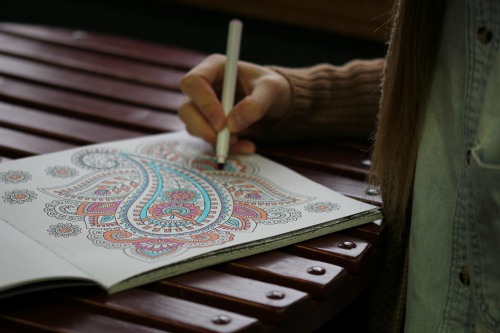 Also, as a busy-body and someone who is always on-the-go, the thought of even sitting down long enough to focus on just simply coloring in the lines of a page seemed to be an impossible task to me.
It really is true!
However, to my surprise, coloring doesn't require much concentration at all! In fact, I could feel my body release built up tension and just simply relax, even as I tried to color in the trickiest of designs on the page. I noticed that my mood also changed! As crazy as it sounds, I was a much happier person while I was coloring. Art in itself makes me happy, but my latest artwork has required hours upon hours of frustration and fatigue. So, the only time that I was left feeling truly happy during my artistic process was at the end. Coloring was a different story though. Even as a perfectionist and trying my best to color in the lines, I felt no hints of frustration or anger when trying to finish the page. I actually enjoyed feeling like an adolescent again!
I'm not sure if this is why the popularity of Adult Coloring Books has risen to such heights, but I'm sure the benefit of stress-relief and the simplicity of the activity has something to do with it. Coloring is for any age! Anyone can color. It's a universal phenomenon I've come to find. And, theyre are so many options out there for a diversity of tastes. Butterflies, animals, flowers, paisley designs (like mine)- the options are endless and are all enjoyable!


The best part about my coloring book- besides all of the intricate and fun designs? The pages are easy to tear! Just in case I wanted to share my beautiful colorings with my friends, familly, or just hang them on my own wall to admire.
I am certainly a fan of the Adult Coloring Book fad now, and I encourage you to try it whether you think you'll like it or not! You don't even have to color the whole page, just sitting down and letting your stress pour into your marker, pencil, crayon, etc. for ten minutes will be worth it.
You have my word.
Even more interesting Stress Fixes: 6 Suprising Stress Fixes
Oh the Joys I find,
Megan Fluharty
Petoskey Through the Eyes of a Newbie