Delicious Slow Cooker Cherry Barbeque Wings
June 2, 2015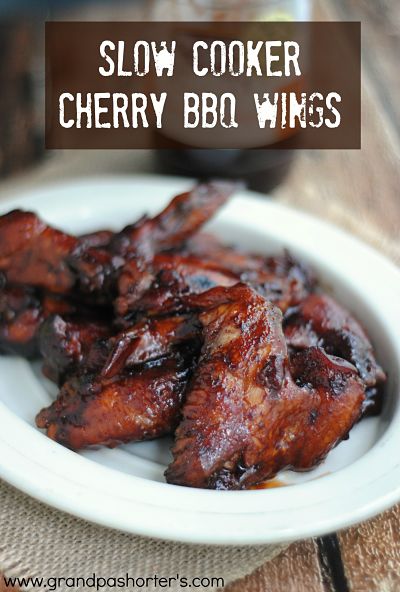 Hi friends! Welcome back to another recipe here on the blog. If you've been following the Grandpa Shorter's blog for some time you know that I am all about food. Easy and delicious food. I absolutely love to be in the kitchen cooking and trying out new recipes, and sampling them of course, but some days I just don't have the time. I don't know about you, but I also dread the kitchen clean-up. If I could cook and test recipes all day long and have someone come behind me and clean the kitchen, I'd be in heaven. Thankfully my husband is a tad OCD and is the cleaner in our relationship and although he loves to try out my recipes he's often the one who comes behind me and puts everything away and cleans up behind me. Thanks honey!!!!
So, this past weekend I tried out a recipe for the blog using only 3 ingredients! Yes, 3 ingredients! I only made a single meal size, which my husband and I devoured without telling the kids, but you easily double or triple this recipe for a crowd. Even better, I didn't make a mess! I just threw everything into the slow cooker and voila, we were in business!
We are already planning a joint summer birthday for our older two kiddos and have already decided these Slow Cooker Cherry Barbeque Wings will be on the menu. I love that these wings are made in the slow cooker. I didn't have to have my husband light our charcoal grill and can be made any time of year. On with the recipe!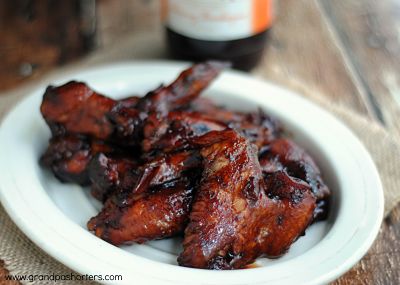 Slow Cooker Cherry BBQ Wings Ingredients –
21 oz bottle Brownwood Farms Cherry Barbeque Sauce
2 tsp. garlic powder
1-2 pounds of wings
non-stick cooking spray
Directions –
#1. Spray the inside of the slow cooker with non-stick cooking spray.
#2. Add the wings to the slow cooker.
#3. Pour the Brownwood Farms Cherry Barbeque Sauce over the top of the wings.
#4. Add garlic powder.
#5. Cook on low for 4-6 hours or on high 3-4 hours (ours were done in about 3.5 hours).
#6. Once the wings are cooked through, remove them from the slow cooker and place on a baking sheet.
#7. Place under the broiler on low for 8-10 minutes to allow the sauce to caramelize. Brush with extra barbeque sauce from the slow cooker if you wish.
#8. Serve warm.
These were so good and I'm not even a huge BBQ fan. My husband loves BBQ anything and it's slowly grown on me throughout the years but I wasn't sure I'd like the Brownwood Farms Cherry Barbeque Sauce but it's divine and we are totally making these again. Soon. If you haven't tried this barbeque sauce yet, grab a bottle the next time you are in Petoskey or check it out online.