Downtown Petoskey Holiday Open House 2015
December 1, 2015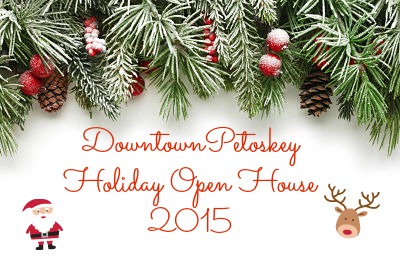 It's already the first week of December here in Northern Michigan and Petoskey residents are gearing up for one of our fabulous annual traditions that officially rings in the holidays here in Petoskey: the Downtown Petoskey Holiday Open House. This Friday, December 4th, 6-9pm Petoskey downtown merchants will celebrate the holiday season by opening its doors to local residents and bring the community together.
During the fun filled evening, the city closes down the streets and residents are able to walk around and check out local shops and many of the downtown businesses stay open later in the evening offering in store specials, as well as beverages and snacks. It's a fun-filled evening for everyone of all ages. If your not in the market for shopping that evening it's always fun to just browse and window shop the local businesses, many of whom put a lot of pride in decorating their storefronts for the holidays. Grandpa Shorter's windows always look festive during the holidays and the staff spent last week decorating their windows for the holidays.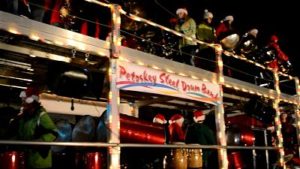 Some of this years Downtown Petoskey Holiday Open House Highlights –
Tree lighting ceremony in Pennsylvania Park
Visit with Santa in the Pennsylvania Park gazebo
Petoskey Steel Drum Band
Carolers
Bean pots, grilled brats and hot cocoa
New this year: Merrymakers Marketplace Art Fair at Crooked Tree Arts Center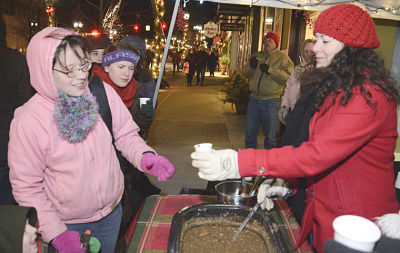 (Photo Credit: Petoskey News Review)
We absolutely love our downtown traditions here in Petoskey and this is my favorite time of year by far. I've never been a huge fan of snow but there is just something about the holidays that makes me feel all warm and fuzzy. Maybe it's the weather or maybe it's because I know I'll be be seeing a lot of friends and family during this hectic time of year. I don't really have an answer for it, only that I just love it.
This past weekend was Small Business Saturday across the country and the kids and I spent the morning in downtown Petoskey watching the annual Stafford's Holiday Parade while visiting with friends. After the parade, we walked around visited local businesses, including Grandpa Shorter's, where I picked up some goodies including a fun doodle coloring book that I've been eyeing the last few weeks. I haven't started coloring it yet but will, very soon.
The Downtown Holiday Open House is another fabulous excuse to peruse local downtown shops if you haven't visited lately. Plan for a quick weekend getaway with some girlfriends or family and stay here in the Petoskey area. Enjoy all that Petoskey has to offer: eat lunch at The Pub and have a cocktail at Tap 30 (I recommend the Moscow Mule) and then listen to the Steel Drum Band and carolers while enjoying a fun Northern Michigan tradition while ringing in the holiday season.