Downtown Petoskey Scarecrow Contest
October 9, 2017
October is in full swing here in Northern Michigan and so is the Downtown Petoskey Scarecrow Contest! Downtown Petoskey always puts together the best activities and fall is no exception. Every year, from October 1st through October 31st, the Downtown celebrates the arrival of fall with a scarecrow contest and local Downtown businesses are encouraged to participate. The prize? Bragging rights for the best scarecrow of course! Entries run the gamut, from good ole' country scarecrows you'd find in the local corn field to high fashion scarecrows that could walk the runway at New York Fashion Week.
My kids and I love fall and I was excited to cover this even for Grandpa Shorter's blog. We headed into Downtown this past weekend and spent the morning on a scarecrow scavenger hunt. The kids had a fantastic time scouting out scarecrows big and small. Most scarecrows could be found outside local businesses while others were dressed up in the store windows. We grabbed photos of the scarecrows we found outside and then headed down to Petoskey Pretzel Company for a quick snack!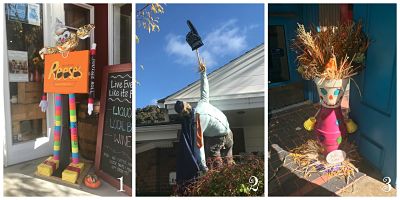 Downtown Petoskey Scarecrow Contest
#1. Symon's General Store – Employees got creative with a candy inspired scarecrow!
#2. Petoskey Chamber of Commerce – This Petoskey Northmen scarecrow is all about school spirit!
#3. The Sunglass Shoppe – Patti Pots greets downtown shoppers with a smile!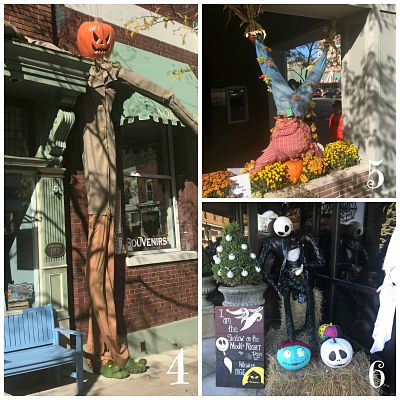 #4. Northgoods – Howard the extremely tall and creepy scarecrow greets guests walking (or driving) up and down Howard Street. This guy was my personal favorite. After picking the kids up from school last week we got to watch the Northgoods staff set Howard up!
#5. First Community Bank – This scarecrow is turned all upside down and even has money falling out of his pockets!
#6. Petoskey Plastics – Jack Skellington inspired scarecrow was another fun favorite. If you've ever seen the movie, The Nightmare Before Christmas you will know why!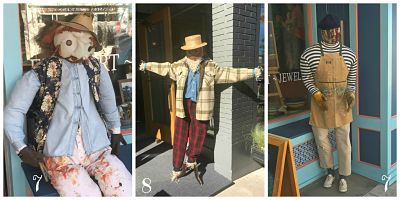 #7. Somebody's Gallery – This Downtown business was busy and got creative with TWO artist inspired scarecrows.
#8. Mettlers American Mercantile – This scarecrow was styling this morning in Buffalo Plaid pants, wool jacket and hat!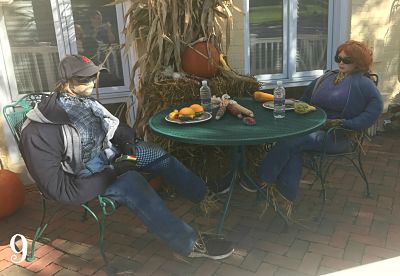 #9. Noggin Room in the Perry Hotel – Two scarecrow patrons dining outside outside the patio while enjoying our gorgeous Sunday morning weather!
We did not photograph every scarecrow we found Downtown so you will have to get out there and find the others! For more information on the Petoskey Downtown Scarecrow Contest head over here. Let us know if you find any others and what your favorite scarecrow is!