Easy & Delicious Bacon & Cream Cheese Roll-Ups Appetizer
November 19, 2014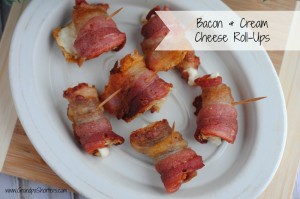 The holidays are getting so close. So close that I almost pulled out the Christmas decorations this week. Almost. I had to force myself to hold off. If you haven't been in or around Northern Michigan or watching our weather forecasts the last week or so, we have been getting hit with snow up here in Northern Michigan and I don't mean a few inches, we're talking a few feet every night here. It's honestly hard to believe that it's not even Thanksgiving yet. Our area schools were even closed today for the first snow day of the year. It feels like Christmas. It really does!
If you checked out yesterday's blog post it was all about Unique Bacon Stocking Stuffers that Grandpa Shorter's has to offer so I thought it fitting to throw in a yummy bacon recipe this week as well!
If you're thinking of having a holiday get together this year or simply bringing a dish to pass, these easy bacon and cream cheese roll-ups are perfect to share and really, really good. They are easy to make and only took about 1 hour total in the kitchen and if you're lucky you probably have all the ingredients on hand. Nothing fancy here, just bread, cream cheese and delicious bacon.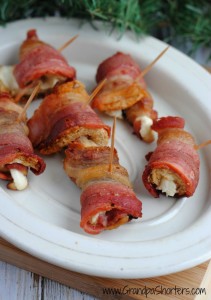 Bacon & Cream Cheese Roll-Up Ingredients –
10 Slices of bread, white or wheat
10 slices of bacon, cut in half (20 slices total), uncooked
8 oz package of cream cheese
Toothpicks
Directions –
#1. Preheat the oven to 350 degrees and line a baking sheet with parchment paper.
#2. Cut the crust off your bread and slice each piece of bread in half.
#3. Generously spread cream cheese on each slice of bread. Don't be shy, everyone loves cream cheese!
#4. Put one bread half on top of one piece of bacon and gently roll up. Insert the toothpick to hold the roll-up together.
#5. Place the roll-ups on the parchment lined baking sheet and repeat with all the other bread and bacon slices.
#6. Bake 25-35 minutes or until the bacon is cooked through.
Best served warm, although I did snack on a few cold and they were still pretty tasty!
*Makes approximately 10 servings. 2 Roll-Ups = 1 Serving.
Looking for more yummy bacon recipes? Check out the links below!
Do you love bacon? What is your favorite bacon recipe? Please share with us!