Eight Facts About Michigan Blueberries
July 15, 2017
July is blueberry month in Michigan. Rows of bushes at U-pick farms are swarmed with folks filling their buckets with the tiny blue fruits. Market shelves overflow with quarts of fresh, local blueberries. In fact, if you're eating blueberries, even if you're not in the Mitten State, there's a good chance they came from Michigan.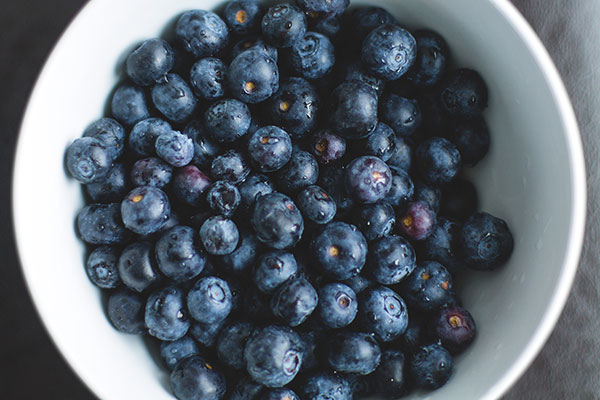 1. Michigan produces more blueberries than any other state. That's right! In 2016 we produced over 110 million pounds, making us the nation's leading grower. That's an awful lot of muffins!
2. We grow 30 different varieties of blueberries. The berries naturally grew wild along the Great Lakes. In the 1900s, some ingenious folks at Michigan State decided to develop new varieties from the wild plants that could be grown commercially. Eventually, that led to the cultivation of several varieties perfectly suited to Michigan's soil and climate that also satisfied consumers with their plump size and sweet taste.
3. About 40 percent of Michigan blueberries are sold fresh. The other 60 percent are processed for use in baked goods and other manufactured foods. Our blueberries travel all other the country!
4. 21,000 Michigan acres are dedicated to blueberries. Each acre yields about 5,000 blueberries. Most of our blueberry farms are clustered together in West Michigan in the Lower Peninsula along Lake Michigan. The region's sandy soil and climate, moderated by the lake, is perfect for growing the berries.
5. Eat all the blueberries you want! One cup of blueberries only has about 80 calories.
6. Blueberries are a top superfood. Blueberries contain more antioxidants than any other fruit. Antioxidants help prevent all sorts of disease and illness including cancer. You can't go wrong snacking on blueberries.
7. Blueberries are vitamin packed. All the good things just keep coming. Blueberries are also packed with vitamins, including A and C, both which support a healthy immune system,
8. Blueberries are a health food workhorse. They also contain manganese for healthy bone growth, dietary fiber for heart health, and they even have anti-inflammatory properties!
What's not to love about Michigan blueberries? Visit PickYourOwn.org to find a Michigan blueberry farm near you.