For the Love of Tea + 5 Michigan Tea Rooms
March 19, 2018
Tea just like coffee tends to be an acquired taste. Growing up my father was a huge tea fan. We constantly had some version of black tea, usually Lipton's stocked in the pantry and a huge jar of raw honey. On cold winter days we would spend the morning ice fishing out on Mullett Lake and then head in for lunch. Tea was always something we shared whether we were out ice fishing or just enjoying a quiet afternoon at home.
Now that I'm grown, I honestly don't drink tea as much as I did growing up. I'm a huge coffee fan but occasionally indulge in tea when I don't feel well. Several of my mom friends are huge tea drinkers though and Grandpa Shorter's carries a wide variety of unique teas in-store that can be enjoyed whenever the mood strikes.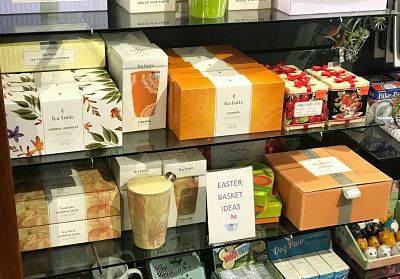 I stopped into Grandpa Shorter's in morning and spoke with Eric. He pointed out the wide variety of teas that Grandpa Shorter's carries in-store. Our tea selection tends to vary from year to year with Tea Forte Herbal Retreat being a customer favorite. If you are in the area make sure you stop in!
Grandpa Shorter's Teas
Tea Forte Bleu – New to Grandpa Shorter's this spring, Tea Forte Bleu contains 5 varieties of unique herbal teas. Each variety contains a hint of various petals and blossoms along with lemongrass, citrus and other infusions.
Tea Forte Herbal Retreat – This variety of teas is a Grandpa Shorter's favorite among customers. Tea Forte Herbal Retreat contains 5 unique varieties of fruit blends: apricot, blueberry, cherry, kiwi lime and mojito.
Tea Forte Chakra – New to Grandpa Shorter's this spring, Chakra is a spicy tea contains 5 unique varieties containing chai and other aromatic spices that encourage mental clarity.
Tea Forte Dolce Vita – Also new to Grandpa Shorter's this spring Dolce Vita blends are the perfect dessert teas. They are rich in flavor and aromas and all organic.
Tea Forte Hanami – Love cherries? The Tea Forte Hanami blend brings together cherry blossoms and tart cherries in organic green tea.
Tea Forte Pumpkin Spice – Pumpkin spice tends to be considered a 'fall' blend but if you love pumpkin this Tea Forte set if for you. The set contains 10 handcrafted tea infusers containing the black tea and pumpkin pie spices.
Want to learn more about Grandpa Shorter's teas selections available in store? Stop in during store hours or call or feel free to call 1-866-SHORTER to speak with a friendly Grandpa Shorter's staff member. 
If you love tea, I'm sure you know that there are some unique tea rooms here in Michigan. All of our local coffee shops including Roast & Toast and North Perk serve tea but if you want that total tea experience you will want to seek out some of Michigan unique tea rooms ranging from as far south as Ann Arbor to as far north as Houghton!
5 Michigan Tea Rooms
Do you love tea? We would love to hear about your favorite tea blends and tea rooms in the comments!