Fudge Lovers Unite
June 19, 2018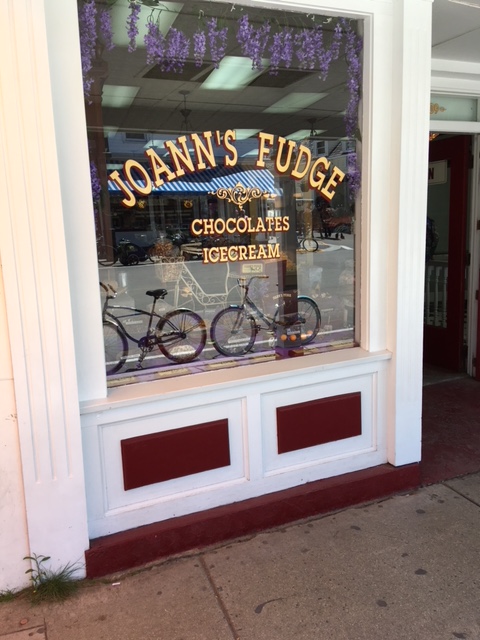 Father's Day might have gotten the bulk of the celebratory attention last weekend, but Saturday the 16th was also a holiday, National Fudge Day.
Like fresh whitefish or morel mushrooms, fudge is synonymous with northern Michigan, even adding to the local lexicon, the term "fudgy" as recognizable as the sugary treat.
Harry Ryba helped make fudge popular on Mackinac Island, and gets credit sometimes for the idea to vent the rich aromas toward the sidewalks; to lure passersby inside his eponymously names confectionaries.  Whoever it was, the practice today is as common as the marble slab tables fudge makers situate near their large street-side windows, the better to show off their candy making skills.
His 1996 New York Times obituary claimed Ryba's shops sold a whopping 150,000 pounds of fudge a year.  Working with Jerome Murdick, another surname steeped in fudge lore, Ryba also expanded his fudge business to include sales at auto and flower shows in Detroit and Chicago, a practice that further popularized the sweet treat with our area's seasonal visitors.
In his 2001 book on the sweet's history, Phil Porter of Mackinac State Historic Parks, traces the history of fudge in the region, noting not only Ryba, but also Murdick and May and others. It is a great read to get ready for the annual Mackinac Island Fudge Festival, kicking off this year on August 24 and offering everything from Willy Wonka-like golden tickets, to themed fudge dinners.
Every seasoned fudge eater has a favorite flavor, and spending as much time as I do on Mackinac Island, I am partial to the Kahlua fudge from Joann's, though there are great treats from other outlets as well.  In Petoskey, for example, try the Turtle flavor from Kilwin's, delicious with its combination of caramel and pecans, or their Sea-Salt Caramel, made better with Bali Pyramid sea salt.
Luckily for visitors as well, most any of the local fudge purveyors sell their wares online in addition to offering a full array of fudge and other candies in the several retail locations. Find the full array of fudge from Kilwin's at www.kilwins.com or the Joanne's goodies at www.joannsfudge.com for example.
From Traverse City to Mackinac Island, and everywhere in between, fudge worthy of celebrating everyday, not just National Fudge Day.