Fun Facts about Petoskey Stones
February 16, 2021
If you live in Northern Michigan or vacation near Petoskey in the summer, you probably know a little about Petoskey's treasure in Lake Michigan, known as the Petoskey stone. Here are some fun facts about Petoskey stones that might pique your interest.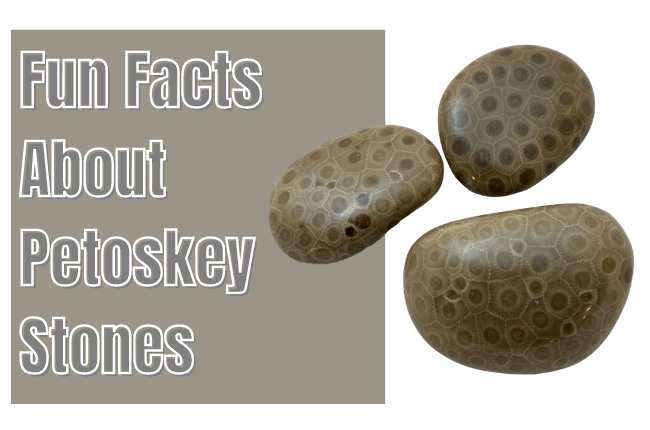 Fun Facts about Petoskey Stones:
Why are they called Petoskey stones? The Petoskey stone was named after an Odawa. chief, Chief Ignatius Petosegay.
The Petoskey stone is the official state stone: Michigan named its state stone in 1965, making it the Petoskey stone.
Petoskey stones were once living: Petoskey stones are made up of six-sided corallites. The corallites are the skeletons of the once-living organism. The center was the mouth and the tentacles that surround the mouth are what reached out for food.
How did the Petoskey Stone get its hexagon pattern?: The Petoskey stone gets its hexagon pattern from fossilized coral. Scientists theorize that Michigan was once located south of the equator and covered in warm, shallow seawater that supported the coral. Over time, the coral fossilized and glacial ice waters eventually helped expose and bring the stones to the surface. The unique hexagon pattern is mostly visible on the Petoskey stone when the stone is wet or polished.
About that name: The Petoskey stone is not actually a stone, but a piece of fossilized coral.
You might also enjoy:
Man Finds 93-pound Petoskey Stone: If you dream about finding an enormous Petoskey stone of your own, you might want to think twice. It turns out collecting this giant rock may have been illegal.
4 Places to Hunt for Petoskey Stones: Petoskey Stones are unique stones found on the shores of Lake Michigan. Visitors and Michiganders both equally find them fascinating. Here are 4 places to hunt for Petoskey Stones from a local that might help you out on your search.
When is the Best Time to Find Petoskey Stones?: Whether you're visiting the beaches of Petoskey, Charlevoix, or somewhere near, you are guaranteed to find a couple of treasures of your own. Check out these Petoskey Stone Hunting Tips if you need a little help.