Valentine's Day Gift Baskets
Order your customized Valentine's Gift baskets for someone special in your life; Packed just for you in Petoskey, Michigan!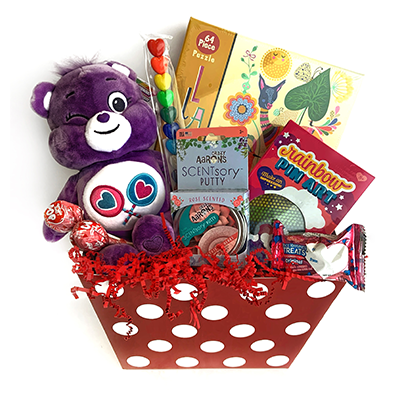 Our Custom Valentine's Day Gift Basket is the perfect gift for someone that seems too hard to shop for! Based on your answers to our survey below, we will craft the perfect custom basket! For example, if you have a nephew that loves dinosaurs and chocolates, we will fill the basket to the brim with dinosaur-related items and chocolates!
Fill out the survey provided once you select your basket.
Every basket comes with a pair of Valentine's Day socks, so be sure to pick an appropriate size!
Be sure to mention anything we should know. (Example: My husband loves your cherry salsa!)
Shipping is $8.95 standard shipping or free local delivery for curbside pick-up.
Each gift basket will be filled with a similar set of items shown in the pictures. All curbside pick-up orders will be given in a gift basket, while shipped orders will come in equally festive gift boxes.
Photos are examples of gift boxes filled with gifts from our customers.