Hiking in Northern Michigan
May 12, 2020
Hiking in Northern Michigan is a great way to get outdoors, burn some calories, and see the beauty of nature.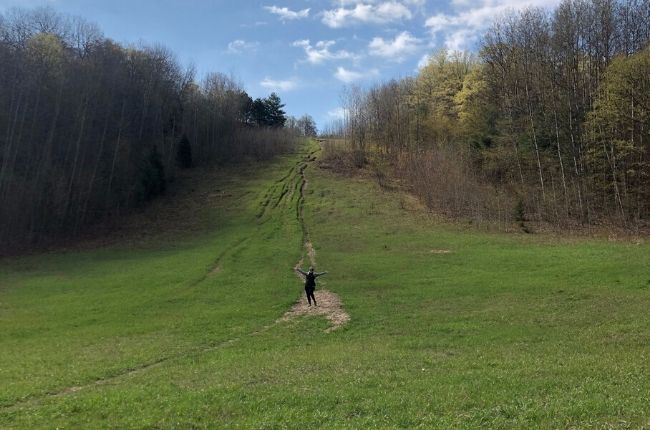 One of my favorite activities has always been hiking or riding my bike through trails. I grew up hiking Sugar Loaf Mountain in Marquette and riding through trails with small jumps right by my house. There is something relaxing about the outdoors, and that is one of the many reasons I love where we live. The Petoskey area has so many trails, lake views, and things to do outdoors.
Avalanche Mountain Preserve: With a beautiful view of Lake Charlevoix, you can use the stairs or hike the path. There's 300 acres of nature for hiking, biking and disc golf.
North Central Michigan College Natural Area: These pet-friendly trails are a local favorite. You'll find the start of the trails hidden in the back parking lot of North Central Michigan College; they are filled with nature, sights of the Bear River, and friendly hellos from fellow hikers.
Boyne Highlands – Hiking Trails: Explore Boyne Highlands by hiking miles of trails through forests and fields. Be prepared for some elevation changes on this hike.
Boyne Mountain Hiking Trails: Choose a paved or non-paved path when you hike the trails of Boyne Mountain. With many beautiful scenic views on or off the mountain.
Boyne School Forest: This 2.9 mile trail is a large easy loop, perfect for biking, hiking or even bringing your dogs.
Headlands International Dark Sky Park: Enjoy 5 miles of hiking trails close to Mackinaw City. This is a wonderful place to hike, explore, and stargaze.
Bear River Valley Recreation Area: About 1.5 miles long, with main entrances on West Lake Street and Sheridan Street. There are paved areas and trails along the Bear River. You might see kayaks on the river and lots of people enjoying the path.
Little Traverse Conservancy Nature Preserves: Recreational use of the nature preserves is encouraged as long as it does not interfere with the preservation and protection of the area.
You might also enjoy:
18 Facts that Prove Michigan is an Outdoor Enthusiast Paradise: There's no doubt Michiganders have a lot of state pride. Ask almost any one of us, and we'll tell you how fond we are of this place. Topping most of our lists of reasons to love Michigan is the natural beauty that surrounds us everywhere.
Top Places to Watch the Sunset in Petoskey: If you love watching the sunset in beautiful Northern Michigan, you will love our Top Places to Watch the Sunset in Petoskey. A local's guide to the best sunset spots.
What You Need in Your Summer Survival Kit in Michigan: Much is said and written about how to survive winter in Michigan. Online you can find lengthy lists of the winter gear you need, like long underwear, snow shovels and rock salt. It's suggested you keep those and a few other survival items in your car in case you end up stranded in a snow bank. But not much is said about summer survival in Michigan.