Homemade Blueberry Muffin Recipe
July 9, 2018
There is nothing I love more than fresh produce during the summer months. Growing up on a u-pick farm, you would think I have a green thumb, but sadly it's just the opposite. Or maybe it's because I don't have a lot of time. Either way, I love fresh fruits and veggies during the summer months. We participate in the Coveyou Scenic Farm Open Market program. If you are unfamiliar with Open Markets and CSA programs, you can learn more about them here. In a nutshell, you pay ahead of time, and then you can choose an unlimited amount of produce (within reason) at the farm or the local farmers market. It's a great way to support a local business and enjoy fresh produce. 
Coveyou's Open Market program doesn't include fruit, but that's ok because local u-pick farms are starting to pop up in our area. Pitchfork Farms offers u-pick strawberries, and Gabriel Farms right outside of Petoskey on East Mitchell offers u-pick haskap. If you aren't sure what haskaps are, they are elongated honeysuckle berries that resemble blueberries and are native to cool climates such as Northern Michigan and Canada.
If you are in the market for fresh Northern Michigan blueberries, Up North Blueberry Farm near Gaylord is the closet u-pick blueberry patch if you feel like taking a scenic drive. If not, make sure to get to the Boyne City or Gaylord Farmer's market early before these delicious blueberries sell out!
Today I'm sharing a classic homemade blueberry muffin recipe with you. I tried to make a few with a crumble topping, but they didn't turn out so pretty. They were pleasing to the mouth but not to the eye. I made a few without crumble topping, which tasted just as good and looked better too. I will, however, include the recipe with the crumble topping, and maybe you will have better luck than I did!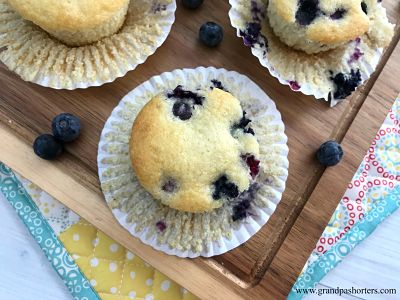 Homemade Blueberry Muffins
Ingredients: 
1 1/2 C. flour
3/4 granulated sugar
1/2 tsp. salt
2 tsp. baking powder
1/3 C. vegetable oil
3/4 C. milk
1 C. fresh blueberries
Crumble Topping Ingredients: 
1/2 C. granulated sugar
1/3 C. flour
1/4 C. butter, cut into small pieces
1 1/2 tsp. cinnamon
Directions: 
Preheat the oven to 350 degrees and line a 12 count muffin tin with cupcake liners.
Combine the flour, sugar, salt, baking powder, vegetable oil, and milk.
Stir in the fresh blueberries.
Fill each muffin well about 2/3 full.
IF doing the crumble topping, combine the crumble topping ingredients together and sprinkle on top of the batter.
Bake for 20-25 minutes.
Remove from the oven and let cool a few minutes before serving.
Store covered.
*Makes approximately 16 muffins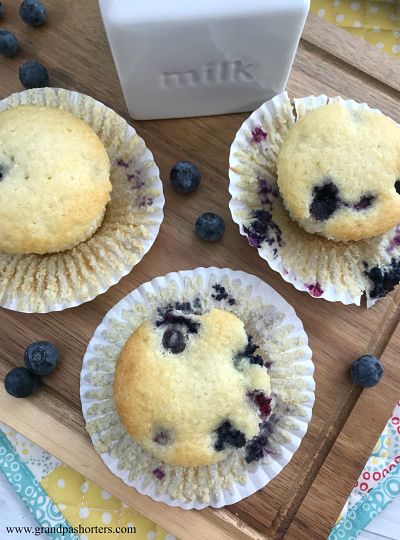 Looking for another blueberry recipe to try? Try our Homemade Blueberry Cobbler!