Homemade Blueberry Pie
January 23, 2020
With Michigan being a leader in blueberry production, homemade blueberry pie is a classic in Michigan.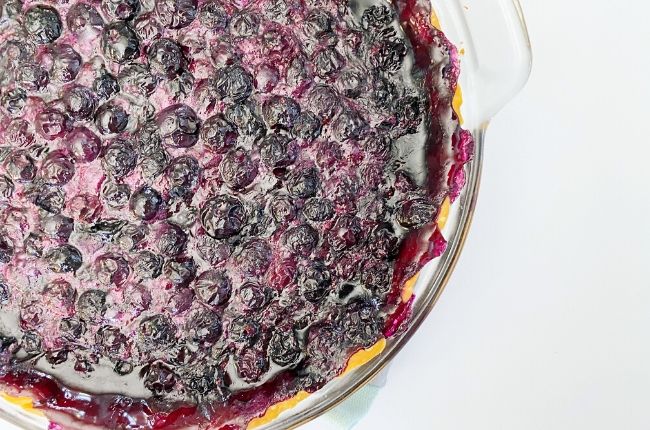 Today is National Pie Day, not to be confused with National Pi Day. Pie day was made to simply celebrate pie. Chocolate, cream or berry pie, it does not matter. But blueberry pie is one of my favorites, especially warmed up with a scoop of vanilla ice cream.
Michigan is one of the best states to live in if you love berry pie. There are hundreds of farms, and locals who grow cherries, blueberries, raspberries, blackberries, and strawberries. I have fond childhood memories of our neighbors letting us grab fresh berries from the bushes in their yard.
Michigan produces 100 million pounds of blueberries each year with more than 30 different varieties. There are around 575 blueberry farms in Michigan, making for lots of yummy blueberry recipes like pie, pancakes, or muffins. To learn more about Michigan blueberries, you'll want to check out these Eight Facts About Michigan Blueberries.
How to make our Homemade Blueberry Pie:
Ingredients:
5 cups blueberries, washed
3/4 cup granulated sugar
1/4 cup cornstarch
1/3 cup water
1/4 teaspoon salt
1 teaspoon lemon juice
refrigerated pie crust
Directions:
In a large pot, combine and stir together the sugar, water, cornstarch, and salt.
Mix in 3 1/2 cups of blueberries and bring to a boil over medium heat.
Cook for 3-5 minters, until mixture has thickened.
Take off heat and mix in lemon juice and remaining blueberries.
Let your blueberry pie filling cool.
Preheat the oven to 375 degrees.
Press the pie dough into a pie pan and fill with the blueberry pie filling and bake for 50 minutes.
Let cool and enjoy a slice with a scoop of vanilla ice cream.
Grab one of our many mugs, fill it up with coffee and enjoy a slice of blueberry pie this pie day.
You might also enjoy:
Eight Facts About Michigan Blueberries: If you're eating blueberries, even if you're not in the Mitten State, there's a good chance they came from Michigan.
Homemade Blueberry Muffin Recipe: This classic blueberry muffin recipe pairs great with a cup of coffee in the morning.
Homemade Blueberry Cobbler: Similar to blueberry pie but the difference is in the crust.