Leland Blue Valentine's Day Gift Ideas
January 12, 2015
Can you believe it's already mid January?? 5 months until summer and Valentine's Day is only a month away. Have you started thinking about how to treat that special someone? I'm not sure what I'll be getting the husband. Probably just a nice dinner alone. I'd settle for that. I, on the other hand would love a little something special and checking out the gorgeous Michigan jewelry pieces at Grandpa Shorter's has got my wheels turning.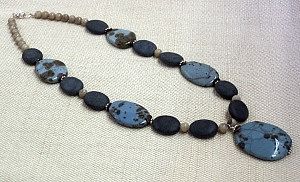 I'd like to introduce to you, Leland Blue, an absolutely breathtaking blue stone only found here in Northern Michigan. "Known as the "Turquoise of the North", Leland Blue stones are 100% unique. Because Leland Blue is a by-product material from the smelting of iron ore the blue ranges from a very light blue to the darkest of blues."
I absolutely adore the blue shades in the Leland Blue stones. It reminds me of summer and the gorgeous deep blue waters we are surrounded by here in Michigan.
If you're wanting to get a lovely piece of jewelry for that special someone and want to keep with the Michigan theme AND shop local, Leland Blue jewelry is definitely the way to go and Grandpa Shorter's has a wonderful selection in varying price ranges. You're sure to find something that catches your eye.
Some gorgeous Leland Blue jewelry pieces to consider for your special someone this Valentines Day –
#1. Leland Blue Necklace – The earthy blue tones in this necklace are breathtaking. This necklace is definitely a statement piece and whoever wears it is sure to get a ton of compliments on it.
#2. Leland Blue Ring – Gorgeous and unique, it is small enough to wear anywhere. This would make a perfect everyday piece in anyone's wardrobe.
#3. Leland Blue Earrings – Looking for a jewelry piece as unique as your special someone this Valentines Day? These beautiful Leland Blue drop earrings are 100% unique so none are exactly the same.
#4. Leland Blue Pendants – I love these pendants. You can choose one that suits your personal style and put on which ever chain you wish.
#5. Leland Blue Bracelet – I love the combinations of the Leland Blue Stone with the Petoskey Stones. It's small and unique. I'm not a huge jewelry person and usually only wear statement pieces when my husband and I go out so this bracelet is perfect for everyday wear being simple and truly unique.
Want to learn more about Leland Blue and how it is formed? Head over to My North where you can find out more information on this beautiful stone.
Stay tuned for tomorrow's blog post: Valentine Date Ideas in Northern Michigan