Little Traverse Bay Ferry Co. – Public Water Transportation
July 27, 2020
Little Traverse Bay Ferry Co. is a new public water transportation ferry. The ferry unites Petoskey, Harbor Springs, and Bay Harbor, MI.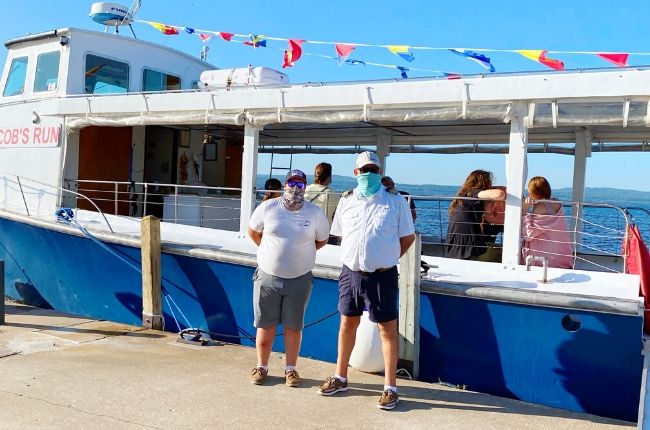 There's a new ferry in town, Amy Lynn, although the boat says Jacob's Run right now, it is soon to change.
If you've been thinking about hopping aboard Amy Lynn to visit Harbor Springs, Petoskey, Bay Harbor, or just to enjoy a leisurely ride on the water, follow my trip for an idea of how it works.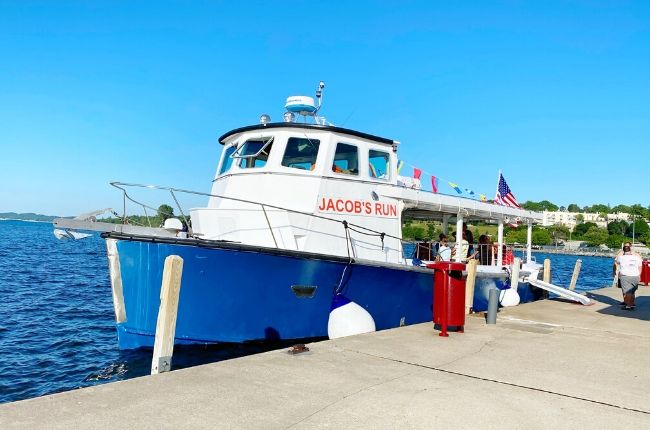 As we boarded the ferry on a Friday evening, we were kindly greeted by Captain Dave and his boat mate, Taylor. We were able to choose our seats, so we headed to the back of the boat for a cool breeze and great views along the way. Captain Dave made sure everyone was on board before we took off for Harbor Springs and handed out masks to those who didn't have one.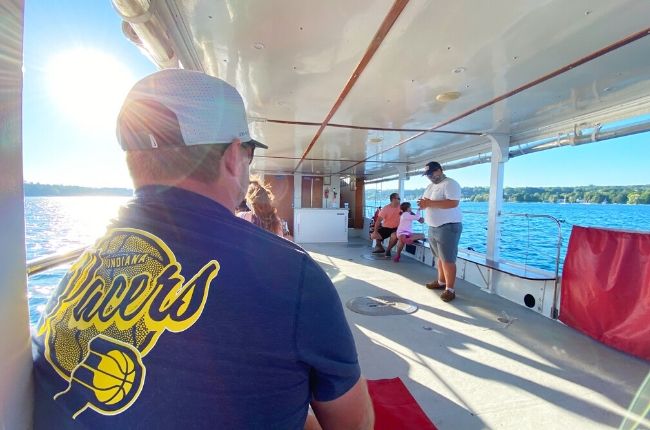 On our way to Harbor Springs, we passed by the Petoskey Breakwall and enjoyed watching the swimmers jump off for a soothing and exhilarating dip in Lake Michigan.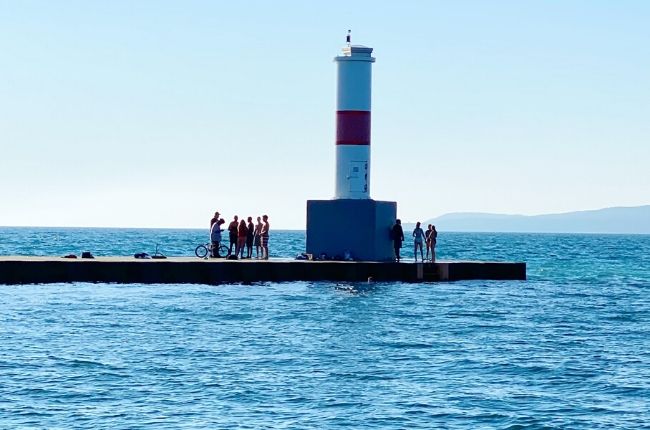 Amy Lynn offers snacks and non-alcoholic drinks, by donation only. Little Traverse Bay Ferry is a non-profit company whose mission is to provide unique travel, educational experiences and connect our lake communities. Just head up to the desk and ask the boat mate on board to help you out. You can also help unite the bay by donating here.
Tickets prices can be found here along with the ferry schedule. The boat is handicap accessible, and I was pleasantly surprised that well-behaved dogs are welcome on board, and you can take your bikes aboard. Just make sure to arrive ahead of time and call to ensure that there is room.
The ride is approximately 25 minutes long from port to port, and they ask that you arrive 5-10 minutes early. We were docked at each port for around 15 minutes before we took off, so you had time to use the restrooms at the landing or aboard the ferry, which is a good thing to know, especially if you have little ones aboard.
While approaching Harbor Springs, we thoroughly enjoyed the view of Harbor Pointe and the Marina. Watching the sailboats pass by and the yachts docked was a spectacular sight to see.
We will head over to Bay Harbor to experience all that trip has to offer on our next ride, but for now, we would recommend the Amy Lynn to enjoy the views of the bay, for a date night, or as transportation. Thanks for the ride, Captain Dave!
Click here to learn more about Little Traverse Bay Ferry Co.
You might also like:
A Picnic in the Park: Petoskey's Downtown is such a beautiful and unique place. There are wonderful locally-owned boutiques and gift shops for shopping, salons with amazing talent, great coffee shops and restaurants with top-notch food and service, and a large grassy area called Pennsylvania Park.
Paddleboarding – A Northern Michigan Adventure: Paddleboarding or SUP has become the new thing in Northern Michigan over the past few years. There are many local stores that sell them, you can rent them, join clubs, and even have a tour guide. It's a great way to enjoy the many beautiful lakes around Petoskey and Harbor Springs.
Beach Glass and How It's Made: Have you ever been to a local beach and found soft pieces of colored glass? That's beach glass, and it's one of the neatest things. But what is beach glass, and how's it made?