Man Finds 93-pound Petoskey Stone
September 25, 2015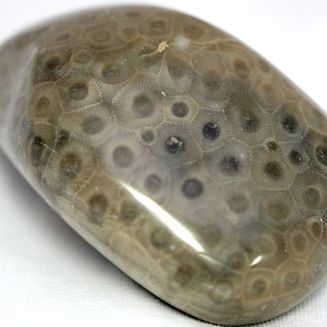 Michigan has been trending on social media all week thanks to a story about a rock hunter from Copemish who found a 93-pound Petoskey stone in Lake Michigan near Northport.
The man says he saw the stone buried in several feet of sand off shore. He made three trips to the stone's location before he was able to dig it out and move it to the beach. From there he had to carry the stone up 114 steps to put it in the back of his pickup truck.
If you dream about finding an enormous Petoskey stone of your own, you might want to think twice. It turns out collecting this giant rock may have been illegal. Now the Michigan DNR wants to talk to the man about his discovery. According to Michigan law, you can't remove more than 25-pounds per year of rocks and minerals from Michigan state land. The man could find himself paying a $500 fine for rock collecting.
The Petoskey stone is the Michigan state stone. The unique stone is made of fossilized colony coral. It's most commonly found along the shores of Lake Michigan in Northern Michigan, where glaciers distributed them during the ice age. When wet or polished, the gray-brown stones display a distinct hexagon pattern across their surface.
Hunting for Petoskey stones has long been a favorite activity of both locals and visitors to the area. And it's perfectly legal to take a few smaller rocks home as souvenirs. Word on the street is that each person is allowed to fill a five-gallon bucket. But if you find a giant Petoskey boulder, it's probably best to leave it in its natural environment.
In 1999, a man found a Petoskey stone at Sleeping Bears Dunes National Lakeshore that weighed in at 1,000 pounds. National park rangers used a tractor to dig up the enormous fossil, and it's now on display at the park.
You can also get up close and personal with the giant Petoskey stone on display at Petoskey City Hall. It's about 20 inches tall and 18 inches wide. Someone donated the rock to the state of Michigan, where it sat in the basement of the capitol building for years before finding a home in Petoskey in 1988.
If you don't want to spend hours rock hunting or you don't have any luck, you can always stop at Grandpa Shorter's and purchase a stone. Better yet, take home some Petoskey stone jewelry, and you'll always be able to wear a little piece of Michigan close to your heart.