It was Groundhog Day on Thursday. And…we're in for six more weeks of winter. But did you know we don't rely on a rodent from distant Pennsylvania to predict the weather in Michigan? Nope, we have our very own groundhog here in the The Mitten State.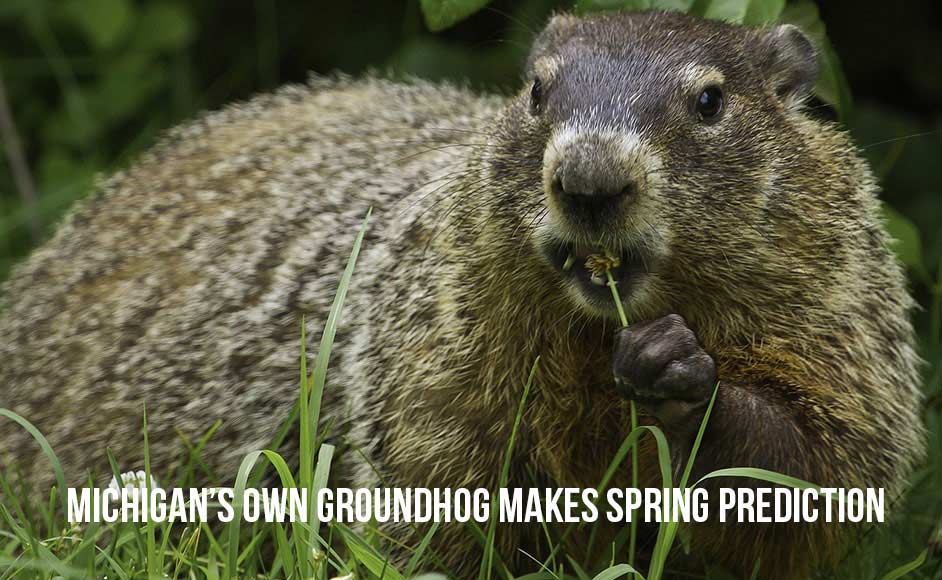 Woody the Woodchuck, Michigan's official state groundhog, lives at the Howell Nature Center on the east side. If Woody comes out of her house and — this next part is very important —  stays outside for at least 30 seconds, it means we'll have an early spring. If she doesn't come out at all, or comes out and goes right back in, we have six more weeks of winter left.
Yesterday, Woody refused to venture out from her cozy home. So, it looks like we're in for a few more weeks of cold and snow here in Michigan. The prediction is in agreement with her fellow forecaster Punxsutawney Phil over in the Keystone State who saw his shadow on Thursday.
Woody has predicted Michigan's weather since 1999. She has a 76 percent accuracy rate which is much higher than Phil's, who is only right about 39 percent of the time. In 2006, Woody also began predicting the outcome of the Super Bowl. She's about 50/50 on those predictions.
In 2013, Woody was incorrect when she predicted an early spring. On the first day of spring that year it snowed. Not afraid to admit when she's wrong, Woody issued a public apology.
In 2015, Woody missed Groundhog Day, because she was under the weather. Murry, another groundhog at the nature center, was the stand-in. She performed her duties well, getting the forecast right when she predicted six more weeks of winter.
If you missed Groundhog Day in Howell, you can still get in on the fun at the Charlevoix Shadowfest in Northern Michigan this weekend, February 3-5. This Saturday, fill up on a pancake breakfast then head to the Opening Ceremony at 10:30 where you can have your photo taken with Charlevoix's resident groundhog. Live entertainment, free movies, a beer tent and games for the kids round out a day of winter fun for the whole family. See the website for all the details.