National Ice Cream Soda Day & Ice Cream Soda Recipe
June 20, 2017
Did you know that Tuesday, June 20th is National Ice Cream Soda Day? I had no idea! Not that, that matters, though because ANY excuse to eat to ice cream is awesome in my book! The first ice cream soda was originally created by Robert Green in 1874, during Philadelphia's Sesquicentennial Jamboree. Rumor has it, Robert Green had run out of ice to sell with his soda so he began mixing the soda with ice cream and voila, the ice cream soda was born!
I love ice cream. I try not to keep it in the house but when the weather gets warm I tend to keep a few cartons on hand for after dessert. My kids would eat ice cream every day if I let them, heck, so would I! Oddly enough, in all my years of eating ice cream, I'd never had an ice soda. We used to have root beer floats and orange cream floats growing up but ice cream soda was new to me.
Today I am sharing with a super easy recipe for homemade ice cream soda. We just happened to have vanilla ice cream in the freezer and sprinkles in the pantry. I always have sprinkles in the pantry. The only thing I needed was to grab some seltzer water from the store. My kids were my taste testers and they approved. I think the sprinkles won them over.
Want to try this recipe at home? Grab some vanilla cream and let's get started!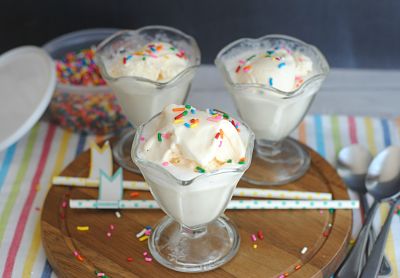 Ingredients:
Vanilla ice cream
Club soda or carbonated water
Sprinkles (optional)
Directions:
Scoop vanilla ice cream into each glass and fill with club soda.
Add sprinkles if desired.