Outdoor Dining in Petoskey
August 8, 2020
Outdoor dining has been a hit this summer and we understand why, social distancing, fresh air, and good food. Check out the outdoor dining options in Petoskey.
Tap 30: Tap 30 is a fun restaurant in Petoskey's downtown. This restaurant has selections on the menu for the whole family, from their well-known totchos, a variety of sandwiches, and yummy mac and cheese. They recently added outdoor seating in front of their restaurant, which has been very popular.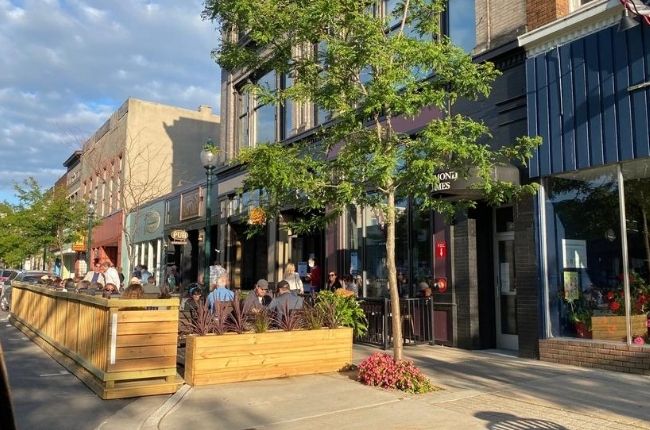 The Backlot: The Backlot has been a great addition to Petoskey with its outdoor dining and food truck concept. There are many food truck options available, like Happy's Tacos, Venture Coney Island, Mim's Mobile Grill, and more. The picnic tables are spaced apart so you can enjoy your meals while social distancing outside.
Chandler's A Restaurant: Nestled in between a couple of downtown buildings, Chandler's has beautiful views of downtown Petoskey. This smaller outdoor patio is perfect for getting together with friends, a date night, or a to grab a quick lunch. And if you love to people watch, this is the perfect spot.
Mim's Mediterranean Grill: This casual restaurant has always been popular among both locals and visitors. They're back patio is a perfect place to enjoy some Greek and Mediterranean grub.
Beards Brewery: With Little Traverse Bay views, I can see why people want to eat on the patio, which is attached to the front of Beard's Brewery. The large patio offers direct access to the bar, a fire-pit, and plenty of seating.
City Park Grill: Enjoy an award-winning Chicago burger or fresh whitefish on the front patio of City Park Grill, a popular spot to eat in Petoskey. With beautiful weather, excellent food, and great service, I can see why people want to hang out or grab a bite to eat at the City Park Grill.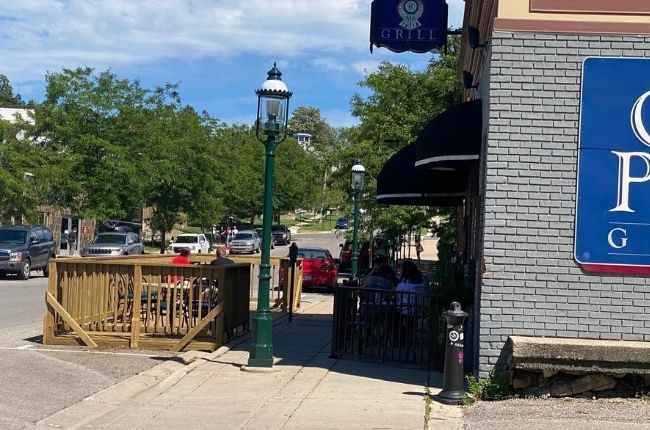 Vernales: Located off the Vernales sports bar is a large patio, perfect for family dining or a night out with friends. They may be known for being the #1 steakhouse in Michigan, but they also offer a casual dining option on their menu, offering burgers, wings, and pizza.
Palette Bistro: This casual upscale restaurant features beautiful views of Little Traverse Bay. Palette Bistro has both upper and lower level outdoor dining with covered patios and umbrellas. The restaurant is known as Petoskey's Best Happy Hour, so stop by between 4-6 pm every day and enjoy their happy hour specials.
What's your favorite restaurant in Petoskey with outdoor seating? Let us know so we can add it to the list!
You might also like:
A Picnic in the Park: A picnic in the park is a great way to spend your lunch break or an evening off of work.
Northern Michigan Bucket List: We love Northern Michigan, the beautiful beaches, million dollar sunsets, and scenery like no other. We provided you with a few things you might want to check off your Northern Michigan bucket list while you're enjoying the area.
When is the Best Time to Find Petoskey Stones: If you plan on visiting Northern Michigan, you'll want to know when is the best time to find Petoskey stones.