Pecan & Brown Sugar Bacon Recipe
March 26, 2019
Bacon has got to be one of the number one foods around the world. I grew up eating it in BLT sandwiches and mainly breakfast but now it's used in just about everything! Have you heard of the Keto diet (lifestyle)? If yes, you probably eat bacon a lot.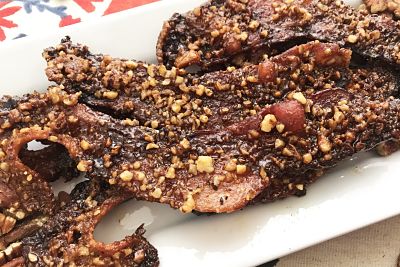 The best thing about bacon is that is goes with just about everything. Sunday April 14th, is National Pecan day. I had no idea! But now that I do, I wanted to feature a recipe using pecans and what better to serve them with than bacon?
I'm not going to lie. I'm not a fancy foods kinda gal. I like bacon just the way it is: crisp and salty. I wasn't even sure if I was going to like this recipe but boy was I wrong!
The combination of brown sugar, pecans and salty, savory bacon cooked to a crisp was delicious. I wasn't expecting to enjoy it as much as I did yet I kept coming back for another piece. The best part? This recipe uses only 4 ingredients and takes about 30 minutes from start to finish. Baking the bacon in the oven is so easy and the clean-up is a snap!
Let's get bacon! Get it, hahahahaha!
Pecan & Brown Sugar Bacon Recipe
Ingredients:
16 oz package of bacon, any brand
2 tbsp. brown sugar
2 tbsp. pecans, coursely chopped
1 tsp. black pepper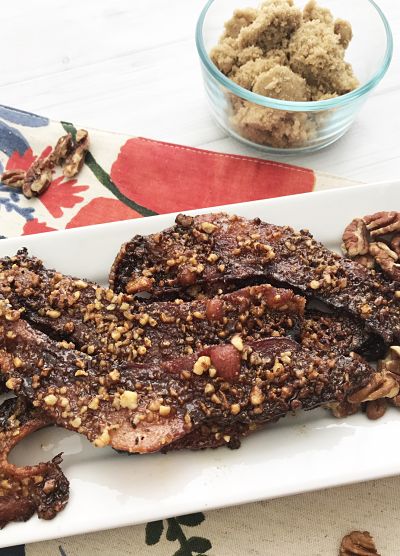 Directions:

Preheat the oven to 400 degrees and line a large baking sheet with foil.
Open the package of bacon and lay it in strips on the baking sheet.
Combine the chopped pecans, brown sugar and pepper.
Sprinkle the mixture over the top of the bacon slices.
Bake in the oven for 18-20 minutes or until crisp.
Serve immediately.