Petoskey's Winter Carnival
February 6, 2020
Petoskey's Winter Carnival is held every February at the Petoskey Winter Sports Park. A funfilled day with activities such as ice skating, bumpjumping, and a cardboard sledding competition.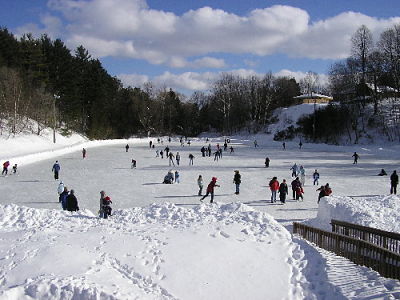 The Winter Carnival is a fun day for Northern Michigan. The day begins with a Char-Em C league hockey game to benefit our local humane society. Then we have the famous bumpjumping competition, PAHA hockey games, a youth sledding competition, the cardboard challenge, and lastly, a figure skating performance.
Even if you're not participating, it is a local activity you'll want to attend for sure.
What is bumpjumping?
A bumpjumper is a homemade sled that is a ski with a seat attached to it. A person sits on the seat, lifts their legs, and will ride down a snowy slope. The goal is for the rider to cross the finish line without falling off their bumperjumper. It's no easy task and takes a lot of balance!
This activity is fun for kids and adults alike! If this sounds like something you might be interested in, you can get all the details here, or you can always just watch the fun.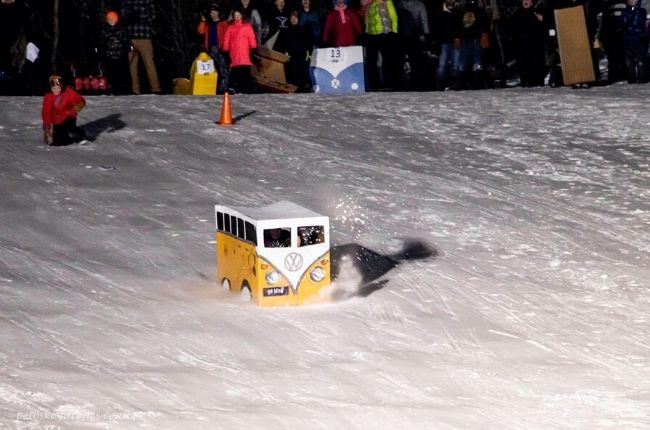 What is a cardboard sled?
A cardboard sled is a sled built out of cardboard, duct tape, and paint. A single person or a team has to fit inside and ride their homemade sled down the hill. These cardboard sleds are all judged based on creativity and design. If you think you have what it takes, you can get all the information you need here.
For a schedule of events, click here.
You might also enjoy:
10 Reason You'll Love Petoskey: Of course, we love Petoskey, our beautiful Northern Michigan city, nestled on gorgeous Little Traverse Bay. Here are ten reasons we think you'll enjoy Petoskey too!
5 Things To Do in Petoskey: Petoskey might be small but we have a lot of free things for families to do and not just during the summer months.
Seven Way to Burn Calories in the Winter in Michigan: When winter settles in, it can make it hard to keep up with your fitness goals. The snow and ice make going for a run dangerous. Working out at the gym gets boring after a few weeks. No need to spend the cold months hibernating. In Michigan, winter provides a whole new set of ways to burn calories.