Snowshoeing Northern Michigan
February 22, 2019
Earlier this week morning while we were having coffee, winter returned — several inches of beautiful, white, fluffy snow. The biggest flakes I've seen all season, they made me want to break out my snowshoes and enjoy the fresh powder.
If you're into hiking and exploring the outdoors, snowshoeing is something you will love.
There are a lot of local trails around Petoskey perfectly groomed for snowshoeing; here are a few you'll want to check out: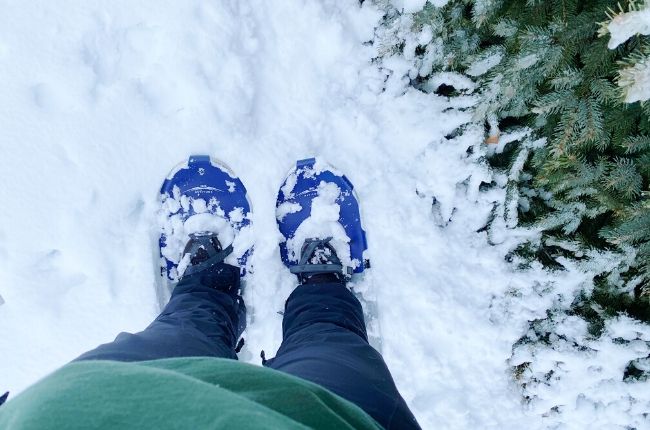 Snowshoe Northern Michigan
North Central Michigan College: Snowshoe along the Bear River on 3 miles of ungroomed trails with three loops. The path is on the college campus in Petoskey. (888) 298-6605 for more info.
Boyne Mountain: The mountain has 4 kilometers of snowshoeing trails, opening at 10 am and closing at 4 pm. Call (800) GO-BOYNE.
Boyne Highlands: The "snowshoe only" trails begin at the Cross Country Center and lead into a natural terrain. Grab some friends and head on out Sunday through Thursday from 9 am-5 pm and Friday and Saturday from 9 am-6 pm.  Call (800) GO-BOYNE.
Birchwood Farms: Strap on your snowshoes and take the 1 or 1.75-mile loop and enjoy the beauty of the snow around you. Use the clubhouse entrance to access the trails at all times. (231) 526-2166 for more information.
Petoskey State Park: Snowshoe through the many hiking trails at the Petoskey State Park, but be prepared for lots of hills. (231) 347-2311 for more information.
Pond Hill Farm: Enjoy the miles of groomed trails, the cafe for lunch, and the market for a little shopping to warm up before you leave. (231) 526-3276 for more information.
Nub's Nob Ski Area: Only $20 per rental (or bring your own for free), enjoy a full day of snowshoeing over at Nub's Nob. (231) 526-2131 for more information.
You should also check out Elmer Johnston Preserve, Goodhart Farms Preserve, McCune Preserve, and the Headlands by Mackinaw City. These trails are mostly mapped and groomed.
You'll want to keep up with snowshoe safety:
For your protection, never go snowshoeing alone.
Always dress for the snow.
Hydrate and fuel.
Your backpack should contain an outdoor survival kit.
Don't rely on your phone; learn how to work a compass.
Carry a couple of flashlights.
Be aware of your surroundings, and never walk on frozen water.
Make sure you have proper snowshoeing gear.
Check out the following items on Grandpa Shorter's Gifts online store: