The History of the Puzzle
January 26, 2021
When piecing together a jigsaw puzzle, do you ever wonder who made the first one, or how the jigsaw puzzle was invented? We did a little search on the history of the puzzle and learned quite a bit.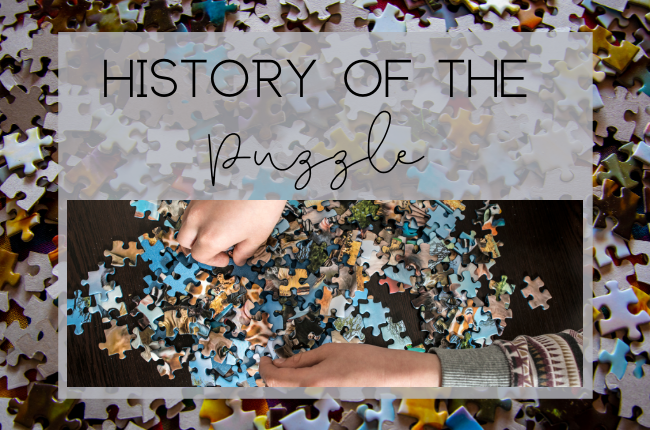 When was the first jigsaw puzzle made?: The first puzzles ever made go back to the 1760s when European mapmakers mounted maps onto pieces of wood and cut them around the countries' edges to help kids learn geography. These puzzles were known as dissected maps.
Who invented the first jigsaw puzzle?: The first known puzzle, the dissected map, was made by a European, John Spilsbury.
What was pictured on the first puzzle?: It's said that the first puzzle was a hand-drawn map of Europe.
When did puzzling become a hobby?: Puzzles started off as an education tool, but as years went on they became a hobby for adults and children alike. These puzzles came out in the early 1900s with no pictures to look at while placing pieces together, just titles. This must have been part of the thrill and amusement!
Puzzles today come brightly colored, often pictured with beautiful views, stunning artwork, and some just solid colored to make it even harder. Most come in pieces ranging from 4 to 5,000 and the largest is 551,232 pieces. I don't think that is a puzzle I'm willing to try.
If you enjoyed the history of the puzzle you might also enjoy:
9 Screen Free Activities for Families: If you're looking to keep your family busy but want to do it tech-free, you will love our 9 screen-free activities for families.
Winter Camping in Northern Michigan: Even some of the hardiest campers store their gear away once the weather turns cold. That's a pity, because some of the best camping is winter camping, and some of the best winter camping can be found in Northern Michigan.
8 Michigander Tips for Staying Warm This Winter: Michigan gets cold in the winter; that's one thing we can all agree on. Learn some tips on how to stay warm during the chilly Michigan winters.
Here's a few puzzles you might enjoy: