Top Places to Watch the Sunset in Petoskey
August 8, 2021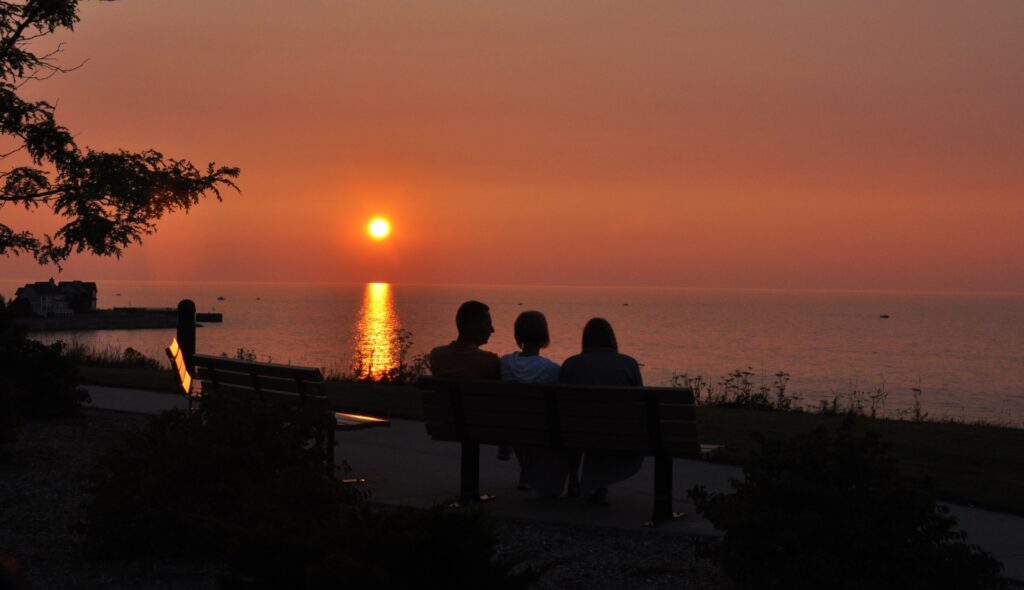 If you love watching the sunset in beautiful Northern Michigan, you will love our Top Places to Watch the Sunset in Petoskey list – a local's guide to the best sunset spots!
This past weekend my family and I spent several nights down by the waterfront watching baseball and the amazing Northern Michigan sunsets. To say the sunsets were beautiful would be an understatement.
I think that often, we locals take our area for granted. It's nice to get out of our normal routine and enjoy the lake, boating, long walks along the water, and at least a few summer sunsets.[1] [2]
Sunset Park: Located right off U.S. 31 above the Bayfront Park, this park is more of a viewing area. Its amenities include binoculars, a gazebo, parking, and a tall staircase leading to Bayfront Park below.
East Park: East Park, located on Quarry Drive towards Bay Harbor, on U.S. 31. East Park makes a great stop while biking along the bike path or a great place to bring your family to watch the sunset. This is one of our family's favorite parks, and it is equipped with a pavilion and picnic tables for a quick lunch or late night dinner. East Park offers panoramic views of the bay, and great sunsets, plus restrooms, parking, and access to the Little Traverse Wheelway.
Petoskey Breakwall: Located at the end of Wachtel Avenue, you'll often see people fishing, swimming and enjoying the views out on this walkable breakwall, also known as a breakwater. We always use the breakwall with caution. On windy days the waves will often wash over it, and swimming is definitely another concern as boats are near and currents can be swift. But if you're going for a stroll to watch the sunset, you're in an amazing spot.
Magnus Park: Magnus Park is a campground tucked next to Lake Michigan, just walking distance to downtown Petoskey, Little Traverse Wheelway and Bayfront Park. The park has a great rocky beach, perfect for Petoskey Stone hunting while waiting for the sun to set. You don't need to camp to stop by this lakefront campground; you can drive, walk or ride your bike down to this hidden gem of a campground.
Petoskey City Marina: Located at 101 E. Lake St., this is my all time favorite spot. It has a nearby park, baseball field, and concession stand. With the views of the Petoskey breakwall and the many boats in the Petoskey Marina, it offers the best spot for watching the sunset and provides for amazing photo opportunities as well.
You might also enjoy these other outdoor posts:
10 Reasons You'll Love Petoskey: Of course we love Petoskey – our beautiful Northern Michigan city nestled on gorgeous Little Traverse Bay. Here are 10 reasons we think you'll love Petoskey, too!
Seven Unique Places to Spend the Night in Michigan: Tired of the same ol' resting spots in Michigan? You have got to check out these seven unique places to spend the night in Michigan. Submarine, teepee, yurt, boat house. We've got it all here!
Take a Stress Free Trip to the Beach with Kids: We make the most out of our warm Michigan summers by hitting the beach as often as we can.
---