Tying Flies
January 11, 2019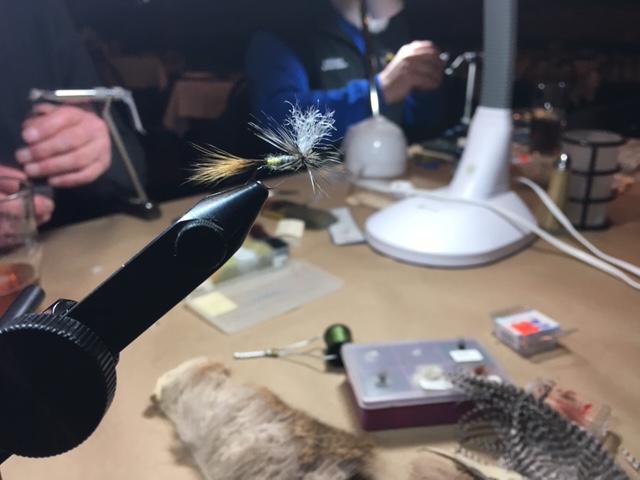 While there is trout fishing to do throughout the winter most fly fishers use the cold weather to prepare and ready themselves for the spring and summer seasons. On true way to prepare is tying new flies.
Whether you are an expert or a novice, fly-tying is the perfect antidote for cold weather, as well as the best method for ensuring you are ready for the coming hatches.
The first step is determining what your fly boxes look like and what you will need for the upcoming season. Because I use a large number of only a few go-to patterns, I tend to resupply these patterns when I get the tying itch.
One of the most common Up North patterns is the Adams dry fly.  Several historical reports suggest the Adams invention occurred in Northern Michigan. The Adams dry fly is considered a general imitation of an adult mayfly.  The pattern is nonetheless effective from April through the end of June, and then again sometimes in the late season.
Another necessary pattern is the Wooly Bugger, which we fish underwater, rather than on the top, like the Adams.  The Wooly Bugger imitates a leech and tends to be productive when there are no bugs hatching. The Wooly Bugger can be used nearly anytime throughout the season. This pattern requires a bit more concentration but can be completed minimal practice. We often use this one to teach new tiers.
Fly tying like any fine motor skill, appears challenging at first, but can be mastered with the right practice and the right instruction.
For local tiers looking to improve, one sure method for practice is the Tie One On events sponsored by the Miller-Van Winkle chapter of Trout Unlimited.
Open to anyone, whether you have your own equipment or not, these nights, beginning at 7 p.m. in the back room of City Park Grill in downtown Petoskey, provide both instruction and camaraderie.  The nights begin with some basic instruction on a selected pattern, and then tiers are free to practice the selected pattern or work on filling in other gaps in their fly box.
Miller-Van Winkle provides all necessary materials, though tiers are welcome to bring their own material as well. Scheduled from 7 p.m-9 p.m. each Tuesday from January through April, these collective evenings offer a fun way to learn something new, to practice familiar skills, or simply to meet other anglers.  
Whether you need to restock a depleted fly box, or you are just looking for some likeminded anglers, fly-tying is the perfect winter tonic to soothe your fly-fishing need.