Unique Northern Michigan Wedding Locations
March 16, 2015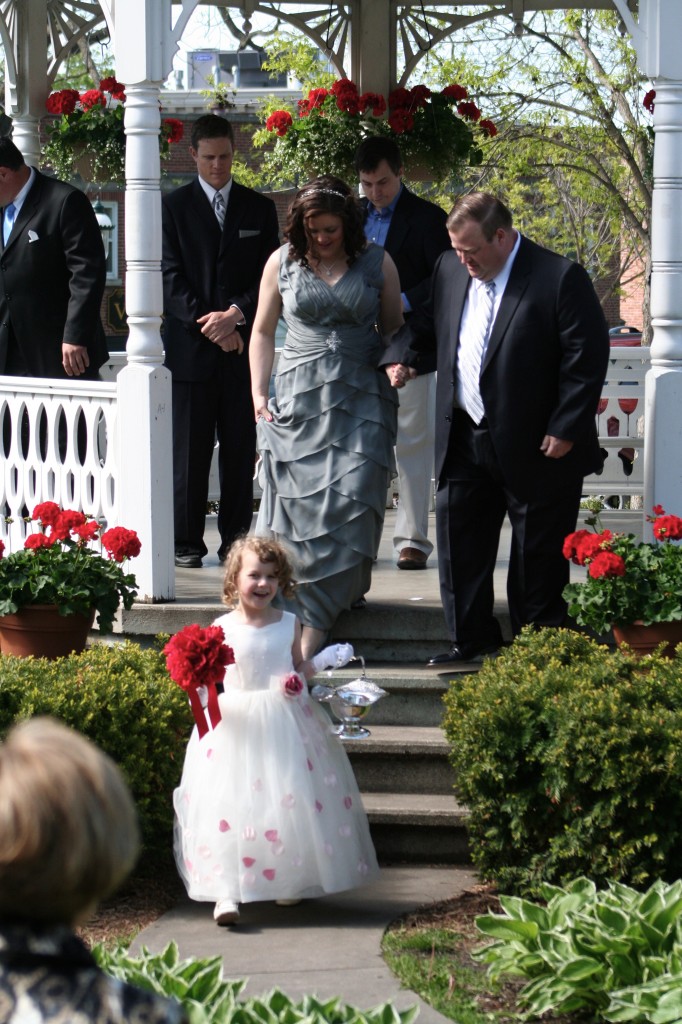 Getting married in Northern Michigan or thinking about it? Let us help you! We've been here since 1946 so I think we know these parts of the woods for getting married like the back of our hands. There are lots of places to get married in Petoskey and surrounding areas. Many people choose the Perry Hotel or Castle Farms in Charlevoix and they're extraordinary. Today we want to think of out of the box locations for getting married in Northern Michigan because after all, there is always more than one option and beauty is in the eye of the beholder. When you say I do, it's about the LOVE, the connection and the joining of two families. Luckily, when you're in Northern Michigan, you can do that with the surrounding beauty of sparkling blue water and gorgeous tall trees – even on a budget! Take for example, our very own Jennifer Shorter. She was married in Pennsylvania Park, in downtown Petoskey. A stunning wedding for all that attended or watched from afar. To reserve the space, just call the City of Petoskey and find out more about how you can rent the beautiful gazebo and be married in downtown, historic Petoskey! Alright, we're a bit bias and in love with downtown Petoskey but there are other options but regardless of what you decide, we highly recommend Petoskey Stones for wedding favors.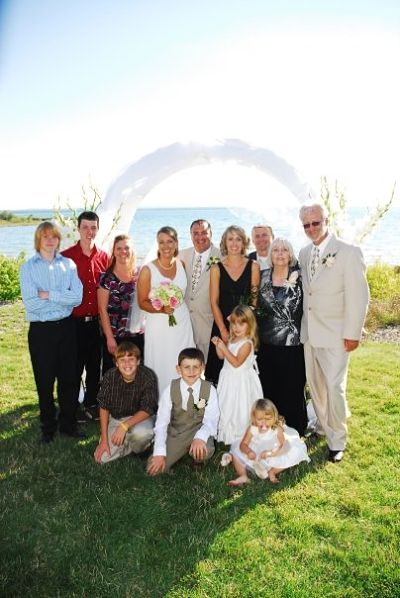 #1. The Headlands in Mackinaw City, Michigan.
Have you ever been to the Headlands? It's this gorgeous out of the way lakefront property outside of Mackinaw City, Michigan now owned by Emmet county. This beautiful property is the perfect locale for a beautiful, secluded wedding and reception right on Lake Michigan.
The Headlands also features a newly renovated guest house which can hold up to 22 people for overnight stays. Perfect for a smaller weddings, as well as other events where guests can stay the night!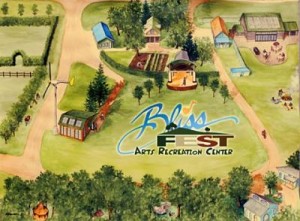 #2. Blissfest Grounds in Northern Emmet County.
This unique locale is not located on the water and is south of Mackinaw City and out of the way in rural Northern Emmet county. It is secluded and surrounded by gorgeous woodland views and open fields. Blissfest Grounds offers a farm house for overnight stays and is perfect for the wedding party while getting ready for the ceremony. Blissfest Grounds have multiple ceremony sites to choose from including: wooded areas, open fields or one of the multiple stages located on the property.
#3. Jordan Valley Barn in East Jordan, Michigan.
If you're thinking a rustic barn wedding and reception is more your style, the Jordan Valley Barn is a definite must-see. Located in rural East Jordan about 45 minutes southwest of Petoskey this location is gorgeous when decorated for a wedding. I could totally picture a rustic fall wedding with lost of pumpkins and fall leaves! The Jordan Valley Barn also features an on property fully furnished guest house with 4 bedrooms, 4 baths, a hot tub overlooking the beautiful Jordan Valley, plus more! It's perfect for the wedding party and family members.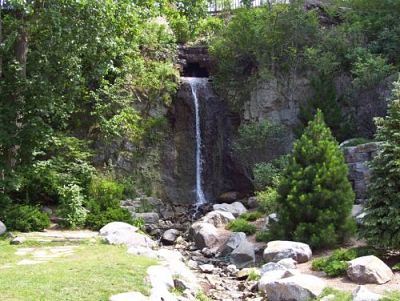 #4. Bayfront Park in Petoskey, Michigan.
Gorgeous views and affordable, this location is unique and it's centrally located for guests with multiple hotels within driving distance and only one block from Petoskey's Gaslight District. The waterfall is the most popular ceremony area but you could choose to be married in front of Lake Michigan with gorgeous views for miles. Keep in mind though, the Bayfront Park is a public park but if you're not afraid of well wishers and love the gorgeous views this is a great location.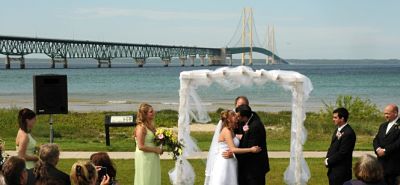 (Photo Credit: Mackinaw City Chamber)
#5. Mackinaw City Bridge View Park – This is a FREE location with a gorgeous view! All you need is a marriage license and you are ready to go free of charge and you will have the Mackinaw Bridge as back drop. Afterwards host your reception at a local restaurant such as Audies.
Did you get married in Northern Michigan? Share with us your photos and what you loved about where you were married!