White Chicken Chili & Cold Weather Soups
October 27, 2015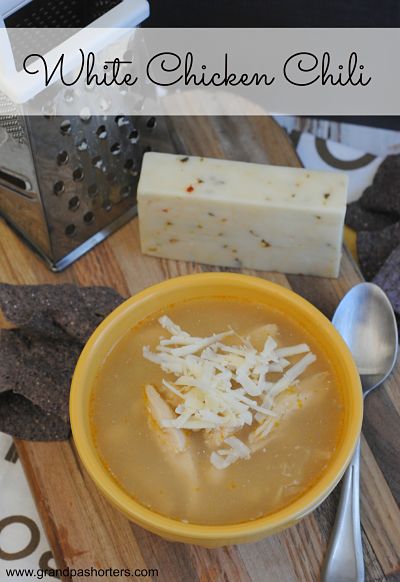 Welcome fall, and the first round of snow for us here in Northern Michigan! The kids were so excited to wake up yesterday morning to several inches of the fluffy white stuff covering our front and back yard. I awoke to my 7 year old son inches from my face: IT'S THE BEST DAY EVER MOM!!!!! IT SNOWED!!!!!! Of course, I feigned excitement. Then, I rolled back over under the comfy warm blankets.
As I was stumbling down the stairs looking for coffee, the kids were already getting dressed and insisted on going outside, mind you, it was still dark out. I held them back until about 8:30am when they wouldn't listen to my excuses anymore and needed help digging out all the the winter gear out of the mudroom closet. I helped, be grudgingly. I don't not like snow, but it's a little early in the season and I'm still trying to enjoy fall!
Boots. Check. Hat and mittens. Check. Snowpants….not yet. We didn't get THAT much snow. Winter coats. Check. Smiles covering their cute little faces. Check.
Outside they went. They had SO much fun. They actually stayed out a lot longer than I thought they would and even sledded on the muddy black dirt pile I had brought in a few summer's ago for our garden. I stayed inside, enjoying the warmth of the pellet stove, my Woolrich throw and a nice hot cup of coffee. It was the first perfect snowy morning. And, it was all melted by about 11:30 am. I was ok with that.
So, it's officially fall and winter is slowly making its way toward us. Let's talk soup! Homemade, warm, yummy and comforting soup. With it being so cold out yesterday I wanted to make a hearty soup that would satisfy us all on a cold fall/wintry day. I pulled out my trusted makeshift cookbook and started flipping through the pages. The white chicken chili recipe caught my eye. We hadn't had it in a while and I had all the ingredients on hand.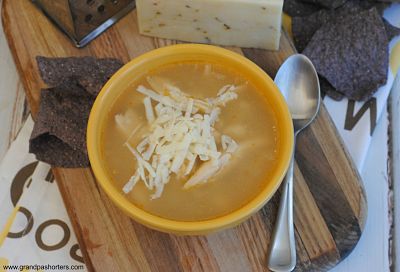 I used my slow cooker to make it, however, you could easily bake and shred the chicken and put the soup together on the stovetop in a large pot or dutch oven. This white chicken chili is very similar to the version that Mitchell Street Pub is known for. Serve it with some shredded monteray or pepper jack cheese and tortilla chips on the side. Yum!
White Chicken Chili Ingredients –
4-5 medium size boneless skinless chicken breasts
4 C. of chicken broth
1-2 tbs. minced garlic
1 medium onion, diced
15 oz. jar of great white northern beans
4 oz. can of diced green chili's
2 tsp. oregano
2-3 tsp. cumin
1 tsp. chili powder
a few dashes of Frank's Hot Sauce
salt & pepper to taste
Shredded Monteray Jack or Pepper Jack cheese (optional)
Tortilla chips (optional)
Directions –
Add all ingredients to your slow cooker and cook on low for 6-7 hours. About 1 hour prior to serving, shred the chicken breasts and place back into the slow cooker for another 30-45 minutes.
Serve with shredded cheese on top and tortilla chips on the side.
*If you would prefer to cook the soup on the stove top, simply season the chicken breasts with salt & pepper and bake on 350 degrees for 45 minutes-1 hour. Shred the chicken and add all ingredients to a large saucepan or dutch oven. Cook on low for 1-1 1/2 hours.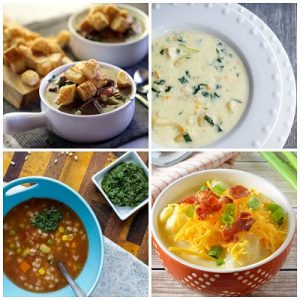 Looking for some more delicious and hearty cold weather soups? Check out this list below!
#1. Crockpot Chicken Noodle Soup from Passion for Savings
#2. Copycat Panera Bread Tomato Bisque Soup from Thrifty Jinxy
#3. Simple Split Pea Soup from Cleverly Simple
#4. Loaded Baked Potato Soup from Quirkly Inspired
#5. Slow Cooker Vegetable Barley Soup with Carrot Top Pesto from This Cookin Dad
#6. Cheeseburger Soup from This Mama Loves
#7. Turkey Barley and Vegetable Soup from Hot Eats and Cool Reads
#8. Olive Garden Chicken Gnocchi Soup from Carries Experimental Kitchen
#9. Chicken Fajita Soup from One Creative Mommy
#10. Slow Cooker Beef and Guiness Pot Pie Soup with Thyme Puff Pastry Croutons from Melanie Makes