Winter Fun in Northern Michigan
December 22, 2019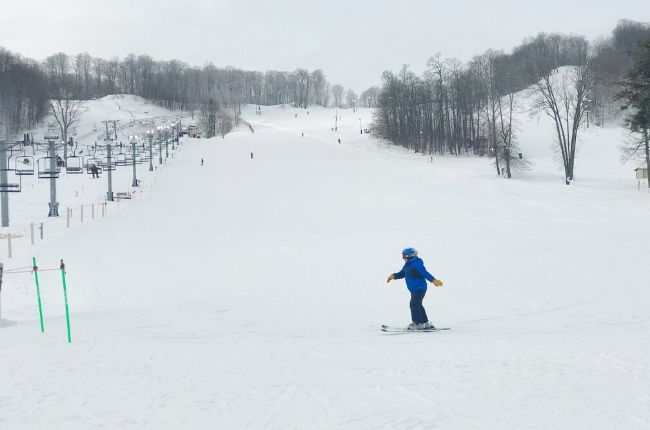 Winter is such a wonderful time in Northern Michigan. There are many activities, such as skiing, ice fishing, sledding, ice skating, and hockey too! Our nature preserves offer hiking and snowshoeing. There's something for everyone in the family!
Candlelight Hikes: Make sure you stay hydrated, fill our insulated bottle, and join Charlevoix's recreation every Friday night, starting at 5:00 pm for a candlelight hike at Mt. McSauba. Try a self-guided tour, where you choose to snowshoe, hike, or cross-country ski. Candlelight trails, a bonfire, and hot chocolate make for a perfect evening.
Shopping Downtown Petoskey: Bundle up and park downtown for an afternoon of local shopping. Make sure to say hello to us at Grandpa Shorter's Gifts, The Katydid, and J.W. Shorter and Son Mercantile. We offer exceptional items to keep you warm, like our Petoskey Winter Hat.
Community Appreciation Day: Sunday, January 12, 2020. Boyne Highlands Resort is offering a full day of free skiing/snowboarding to residents of Antrim, Charlevoix, Cheboygan, Emmet, and Otsego counties.
Four for one day: Boyne Highlands is offering four lift tickets for the price of one on Sunday, February 2, 2020, at 9:00 am. This offer is available whether you ski or snowboard, make sure you don't miss this event.
Sledding/Ice Skating: There's free admission at the Petoskey Winter Sports Park, and it only costs $5.00 for skate rentals. They offer two ice rinks, a sledding area, and a warming house with a concession stand. Bundle up, bring a sled and head on over for a day of winter fun.
Downtown Petoskey's 92nd Winter Carnival: February 14-15, 2020 is a festive weekend of ice sculptures, cardboard sledding, an ice bar, ghost walk, and so much more. Check out all of the details at PetoskeyDowntown.com.
Check out the following items on Grandpa Shorter's Gifts online store: