10 Facts about Michigan Apples
September 21, 2017
If you love apples, Michigan is the place to be in the fall when our orchards are chock full of the beautiful red, sweet fruits. Here's a few facts about Michigan apples to mull over while you plan your trip to one of our many U-Pick orchards and farm markets.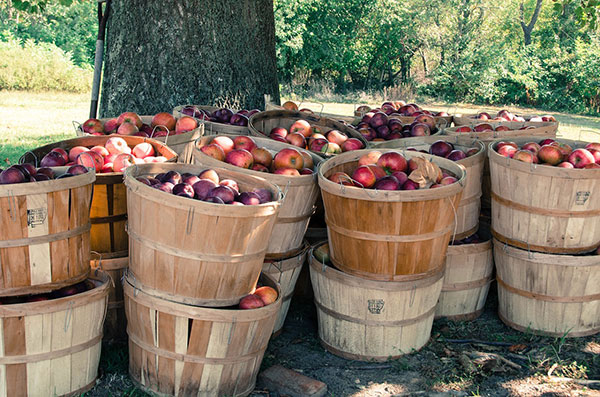 1. Of the many fruit crops grown in Michigan, apples are the biggest and most profitable, contributing more than 500 million dollars to the economy each year.
2. Michigan apples are sold all over the country. Here you'll find them everywhere, from roadside stands to major retailers like Meijer. The U.S. Department of Agriculture requires labeling on all fruits and vegetables. Read the label and you'll know if you're buying Michigan grown apples.
3. Only two other states, Washington and New York, grow more apples than Michigan. As with many of our other fruit crops, the proximity to Lake Michigan creates the perfect growing climate for apples.
4. Michigan has more than 11 million apples trees. Those trees are spread out across 35,500 acres on over 800 family-owned farms, like Friske's Farm Market in Ellsworth. Pick your own apples in the orchard or visit their farm market for apples fresh off the tree. While you're there, treat yourself to homemade doughnuts, apple pie and a variety of other sweets from their bakery. Kids will enjoy the playland and petting zoo.
5. Fifty percent of Michigan's apples are sold fresh to consumers for things like snacking and home baking. The rest are processed for commercial use by companies like Michigan-based Gerber Baby Food.
6. The Michigan apple harvest averages 22 million bushels a year. All those apples provide jobs for more than 180,000 people statewide.
7. According to the Michigan Apple Committee, there are no Genetically Modified Apples grown in Michigan. Some apples are also grown organically. They will be specifically labeled.
8. Michigan apples are available year round thanks to a storage process called controlled atmosphere. Oxygen levels in the air are reduced to just one or two percent, and the temperature is kept between 32 and 36 degrees. This slows the ripening process, keeping the apples fresh and crisp, without the help of any chemicals.
9. More than 16 different varieties of apples are grown in Michigan. The Paula Red, an early season apple used for both baking and snacking, was discovered in Sparta, Michigan!
10. Some varieties, like the Jonagold, were discovered in Europe, but actually grow better and develop a sweeter flavor when produced in Michigan, thanks to our cool climate.
*Based on information from the Michigan Apple Committee.