10 Reasons People in Michigan are Happy
March 24, 2017
If you live in Michigan, we think you have a lot to be happy about. It was hard to narrow it down, but here are the top 10 things we think make Michiganders happy.
1. You're never more than six minutes away from a body of water – In Michigan, there's always a lake, river, pond or stream just down the road from you. We have more than 60,000 inland lakes and four Great Lakes. No one in Michigan is more than a 2 ½ hour drive from one of the big lakes. We also have over 50,000 miles of river. It's hard not to be happy with all this beautiful scenery to admire. There's also plenty of opportunity for swimming, fishing, boating and kayaking. An added bonus, all our water is always fresh. No salt or sharks in Michigan!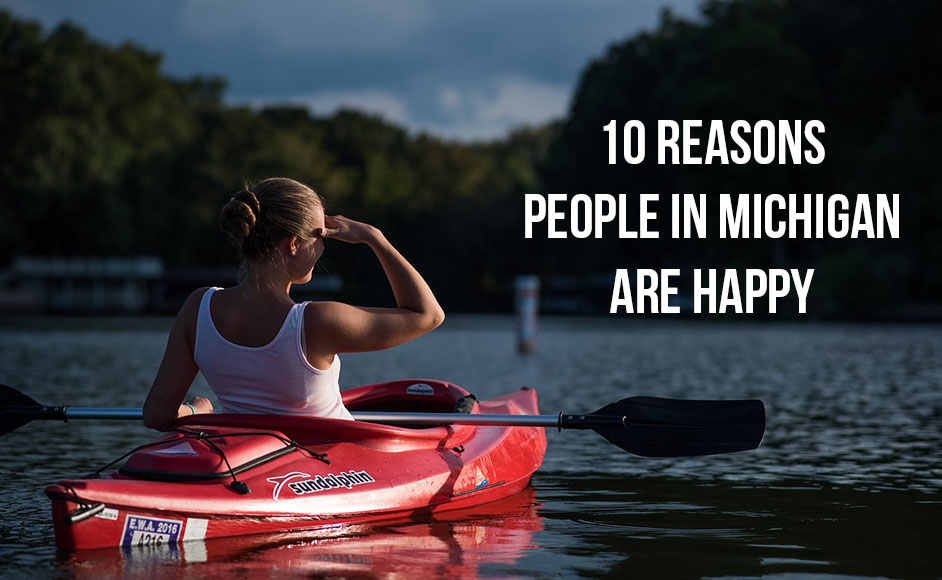 2. We get our daily dose of fresh fruit & veggies – A healthy diet contributes to an overall sense of well-being. We grow over 300 fruits, vegetables and grains here in The Mitten State. In the summer, you'll find most of them available for sale at farm markets and roadside stands. It's easy to eat a healthy diet with all that farm fresh produce around. If you like the DIY approach, you can pick your own strawberries, blueberries and apples at the fruit farms scattered all around the state. There's nothing quite like eating an apple right off the tree!
3. Beautiful Beaches – With all that water comes a lot of beaches and a lot of sand. Who isn't happy when they're at the beach? Many Lake Michigan beaches are perfect for swimming with their soft, clean, white sand. You'll find amenities like restrooms, changing rooms and concession stands at most public beaches. Lighthouses also dot the shoreline. Their majestic towers decorate the waterscape, making great photo opps and many are open for tours. If you like to hike, climbing the sand dunes at places like Sleeping Bear or Warren Dunes gives you a great workout. The spectacular view of the lake from the top is worth the long climb. Time it just right, and you can watch one of our spectacular Michigan sunsets from atop a dune.
4. Sports Mania – If you love sports, you'll be happy in Michigan. We're one of only 13 states with teams from four major league sports. The Detroit Tigers have been taking the field since 1901, and they're one of the most storied teams in baseball history. The Detroit Red Wings have won hockey's biggest prize, The Stanley Cup, a whopping 11 times! The Detroit Pistons started sinking baskets in 1941, winning three national championships, the most recent in 2004. The Detroit Lions are infamous for never winning a Super Bowl, but their fans are dedicated and die-hard. They saw a glimmer of hope when the Lions made it into the playoffs in 2016. College sports are huge in Michigan also. Michigan State and the University of Michigan have one of the biggest college rivalries in the country.
5. Homegrown Beer and Wine – The craft beer industry in Michigan exploded in the last 10 years. There are over two hundred local breweries in the state now. Grand Rapids was named Beer City USA in 2012 and 2013. Some more well-known breweries include Bell's in Kalamazoo, Founders in Grand Rapids and Short's in Bellaire. If you're in search of the perfect brew, Michigan is the place. If you prefer wine, Michigan has almost 150 local vineyards. The unique weather patterns produced by the proximity to the Great Lakes make it a prime real estate for growing wine grapes. Add a wine tour to your itinerary next time you visit the lake shore.
6. Outdoor Recreation – Studies shows spending time outdoors puts you in a good mood. There are many, many ways to get outside in Michigan. We already mentioned all the water activities you can do here, but there's so much more. State and local parks have thousands of miles of hiking and biking trails. A portion of the national North Country Trail even runs through Michigan. We have over 600 golf courses and 600 campgrounds. Outdoor adventures isn't limited to summer. In the winter, you can ski, snowmobile, snowshoe, ice fish and dog sled.
7. Long Summer Nights – The summer season never seems to last long enough here. But Thanks to Daylight Savings Time and being one of the western most states in the Eastern Time Zone, Michigan does has long summer nights. In July, the sun doesn't set until 10 p.m. which gives us extra time to enjoy the water, woods and friends around the campfire. There's just something about lingering outside on a warm evening that makes you happy.
8. Seasons – Everyone likes variety, and we have that in Michigan with our four distinct seasons. Without them, we wouldn't have all the outdoor activities and fresh produce mentioned above. Each season is also beautiful in its own way. Winters are covered in glittering, white snow. Spring brings cherry blossoms and fields full of tulips. The lakes take center stage in summer with their deep blue waters shining in the sun. In fall, the forest trees blaze with red, yellow and orange leaves. Every new season gives you something to look forward too.
9. A vibrant art and music scene – Maybe Michigan isn't the first place you think of when you think of when you think of The Arts, but Detroit is the home of Motown after all! This list would go one forever if we mentioned all the famous musicians from Michigan. (Aretha Franklin, Eminem, Stevie Wonder…) Today, large concert venues bring in national acts, while intimate stages showcase indi groups and new talent. National tours of Broadway shows make stops in The Mitten State. Civic theaters give both local actors and playwrights a voice. Many lake shore towns are home to art galleries where you will find unique pieces by local artists. In September, downtown Grand Rapids is transformed into one big art gallery for ArtPrize when over a thousand artists from around world display their work in this international art competition.
10. Michigan has something for everyone – As you can already tell from this list, Michigan has many faces. If you love the city, places like Detroit, Ann Arbor and Grand Rapids will satisfy your craving for urban life with museums, concert venues and art galleries. Cities along the lakeshore are for anyone who likes the laid back lifestyle of a beachtown. If country life is your thing, you'll find it among the farms, rolling hills and small towns. And if you want to get away from it all, just head to the forested wilderness of the Upper Peninsula where you can hike for miles through the woods and never see another person.
Now, tell us why Michigan makes you happy?