10 Things to do in Michigan this Labor Day
September 2, 2017
In Michigan, Labor Day weekend is the unofficial end of summer. For most families, it's also the last hurrah before the kids go back to school for the year on the following Tuesday. There's plenty going on all around the state this weekend to help you end summer on a high note.
1. The Mackinac Bridge Walk – You can't mention Labor Day events in Michigan without talking about the annual Mackinac Bridge Walk. On Monday, somewhere between 40,000 and 65,000 people are expected to walk the five-mile length of the Might Mac, which towers over the Straits of Mackinac. The walk begins in the Upper Peninsula on the St. Ignace side at 7 a.m. After arriving in Mackinaw City in the Lower Peninsula, participants are bused back to their cars in St. Ignace. This year, for the first time, the bridge will be closed completely to vehicle traffic during the walk, beginning at 6:30 a.m. It reopens at noon. If your Labor Day plans include a drive across the Mackinac Bridge, plan accordingly.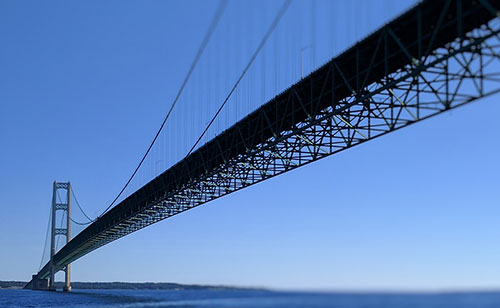 2. Tour the Nina and Pinta – Replicas of Columbus' tall ships, the Nina and Pinta, are docked in South Haven this weekend. Visitors can tour the ships which are deemed the most historically accurate replicas ever created. Tour admission also includes a visit to the Michigan Maritime Museum, the event host.
3. Michigan State Fair – The Michigan State Fair runs through Monday in Novi, and it's packed with fun for the whole family.  Michigan's rich agricultural industry is on display with a menagerie of farm animals and a farmer's market full of fresh produce. Live music, a midway, circus and lots of food, including a corn-on-the-cob eating contest, provide endless entertainment.
4. Detroit Jazz Fest – Four stages in downtown Detroit will feature some the world's best jazz acts this weekend.  You'll see performances from Benny Golson, Wayne Shorter, Herbie Hancock and Stanley Clark, as well as tributes to legends like Ella Fitzgerald. Those are just a few of the more than 50 acts that will perform at this free event.
5. Michigan Renaissance Festival – Travel back in time in Holly at the Michigan Renaissance Festival. You'll encounter a 17-acre village complete with period shops, taverns and even a castle. Costumed knights and peasants roam the grounds. You can even take in a thrilling jousting match. You'll also find plenty of food and live entertainment. The event runs for several weekends, each with its own theme. The Labor Day weekend theme is High Seas Adventure.
6. Thunder Over Michigan – The U.S. Navy's world-famous flight demonstration team, The Blue Angels, roars into Bellevue this Saturday through Monday at Thunder Over Michigan. You'll also be able to take an aircraft ride, see a World War II battle re-enactment and the world's largest paratroop drop.
7. Thumbfest – This Saturday, Thumbfest fills downtown Lexington on Lake Huron with live, acoustic music from 11 a.m. to 10 p.m.This free event features a variety of musical styles including folk, Celtic and New Orleans brass. You'll also be able to participate in music workshops and jam sessions. The evening ends with a Hootenanny.
8. Marquette Area Bluesfest – Lower Harbor Park on Lake Superior in Marquette is home to the Area Bluesfest this Friday through Sunday. Top acts from Austin, Chicago, Detroit and St. Louis travel to the Upper Peninsula for this annual event. Workshops, food and  a beer and wine tent featuring U.P. craft brews  are just some of the other offerings.
9. 10th annual Hoxeyville Car Show – This Sunday, Cadillac hosts the the Hoxeyville Car show. You can bring your own classic car or just come to check out all the rides on display in this beautiful setting where "Up North" begins. It starts with a pancake breakfast at 8:30.
10. Lake Bluff Craft Fair – This Saturday, shop for a variety of handcrafted goods including furniture, candles and clothing in Lake Bluff Park in St. Joseph. You'll enjoy amazing views of Lake Michigan at this popular event. It begins at 10 a.m. and goes until 5 p.m.