10 Things to Do in Michigan Before Summer Ends
August 18, 2017
There is so much to enjoy in Michigan during the summer, it's hard to fit in everything. The season is quickly coming to an end, but there are still a few weeks left to get one last taste of summer before school starts and the trees begin changing color.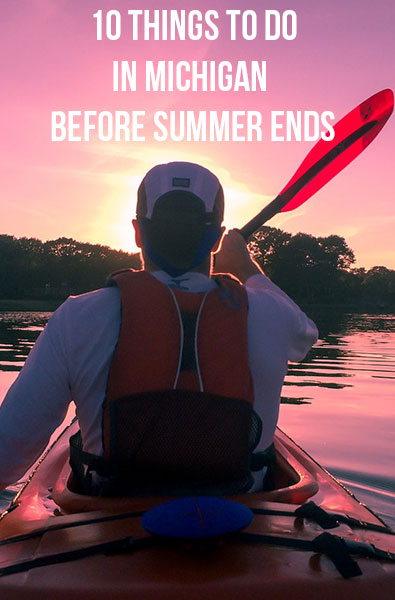 1. Go to a Tigers game – The Boys of Summer are still running bases at Comerica Park in Detroit. There's nothing quite like chomping on a hot dog and sipping a Coke while you watch one of Baseball's most storied teams play nine innings of America's Favorite Pastime. Their Fan Value Packs that combine tickets and food deals make it affordable fun for the whole family.
2. Go fruit picking of or visit a farmer's market – Michigan is one of America's top producers of produce, especially fruit. There's still time to visit a local farm and pick the season's last blueberries or grab a bushel of early Apples. You can also visit one of our hundreds of farmer's markets. This time of year they're overflowing with everything from fresh tomatoes to homemade strawberry jam.
3. Watch the sunset over Lake Michigan – There's no sunset like a Michigan sunset in summer. And there's no better way to watch it than sitting at the end of pier jutting out into Lake Michigan. Listen to water as it splashes and laps while the sky turns amazing shades of pink and orange.
4. Climb Sleeping Bear Dunes – Speaking of incredible views, you'll be blown away by the sites you'll see from the top of Sleeping Bear Dunes. You'll find yourself 450 feet above Lake Michigan where can you see nothing but blue sky and water for miles and miles. The climb is strenuous. Bring plenty of water, a few snacks and plan on it taking as long as four hours.
5. Hike Isle Royale – One of Michigan's best kept secrets is this 893 square mile island in Lake Superior, about 50 miles offshore from the Western Upper Peninsula. Managed by the National Parks System, this remote island is one of America's last truly wild places. You can backpack and camp along of a system of trails that takes you through pristine forests where moose graze. Isle Royale is accessible by ferry from Houghton and Copper Harbor. Reservations are recommended.
6. Watch the Freighters pass through the Soo Locks – The Soo Locks in Sault. Ste. Marie in the Upper Peninsula allow freighters to travel between Lake Superior and the Lower Great Lakes. You can get an up close look at this engineering marvel and even see how they operate as ships pass through them. You can call the Soo Locks Visitor Center for a daily schedule of what freighters will pass through and at approximately what time.
7. Paddle the Platte River – You can can canoe, kayak or even tube down the gentle Lower Platte River inside Sleeping Bear Dunes National Lakeshore. With no rapids and a depth of just two to or three feet, this is the perfect river trip for families or beginners.
8. Go Petoskey Stone Hunting – Northern Michigan beaches, especially near Petoskey, are the place to go in search of this coveted souvenir. Petoskey stones are fossilized coral and feature a unique hexagon pattern that can only be seen if the rock is wet of polished. True Petoskey stones are only found in Northern Michigan. One of the best times to hunt for the stones is after a summer thunderstorm that churns up the lake waters, depositing stones on the beach.
9. Visit the Mathaei Botanical Gardens – Located in Ann Arbor at the University of Michigan, the garden is in full bloom in summer. You'll find a mix of annuals and perennials, including Morning Glories, Cosmos and Zinnias. Butterflies and hummingbirds frequent the garden to drink to nectar from the blooms. There are variety of trails, gardens and natural areas to visit.
10. Visit Mackinac Island – Catch a ferry from Mackinaw City or St. Ignace and spend the day in what is perhaps Michigan's most famous summer destination. Cars are not allowed on this island that sits in the Straits of Mackinac, between lakes Michigan and Huron. You'll feel like you've stepped back in time among the Victorian architecture and streets clogged with horse drawn carriages and bicycles. A variety of unique boutiques and restaurants as well as colonial historic sites provide plenty to do.