5 Car Essentials for Michigan Winters
December 31, 2018
Winter driving is one of those things that I am not a huge fan of. Living in Northern Michigan I've learned to drive in the winter but no matter how old I get and how awful the weather is I never really get used to winter driving.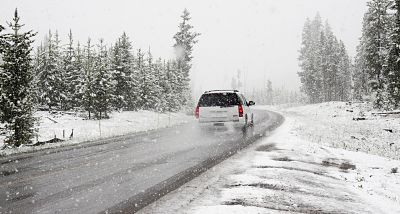 Several weeks ago we all thought we weren't going to have a white Christmas. On Christmas Eve it began snowing and we were granted that beautiful white Christmas after all. A few days later the rain started. The snow quickly melted and then we were left with freezing rain. Thankfully I had nowhere to be that particular evening so I rented some movies and curled up on the couch with the kids.
With our weather being so sporadic here in Northern Michigan it's always best to be prepared and keep some essential items in your vehicle. You just never know when you will have car trouble or go off the road depending on the weather and no matter how safe of a driver you are it's always best to be prepared! I've put together a helpful list of 5 car essentials to winter in your vehicle during the cold winter months.
5 Car Essentials for Michigan Winters
A Shovel. This seems like common sense but there has been many times I've slid off the road, even turning into our driveway. A shovel would have been super helpful! Instead, I had to walk up to the house, wait for someone to drive by or call my husband to come help me out.
A Blanket. Having kids we always have 1-2 'car blankets' in the back seat. Even prior to becoming a parent I always carried a blanket in my trunk. We love the Great Lakes Throw (available in Navy and Heathered Grey) at Grandpa Shorter's. It's perfect for keeping in your car year around. Use it in the winter to stay warm and during warmer months as a beach blanket!
Deerskin Gloves or Mittens and a Warm Hat. My vehicle has one of those really nice center consoles that you can cram a lot of stuff into. I like to keep an extra hat and a set of gloves and/or mittens in it. It works out great for the kids too as they occasionally forget their hats. It's always nice to have extras!
First Aid Kit, Flares and/or Flashlight. Here in Michigan in gets dark very early during the winter months. That can either be a blessing or a curse but most Michiganders are used to the time change. Having a flashlight and/or flares in your trunk will help keep you visible to other motorists after dark, especially if the weather isn't so great! A first aid kit is always a good idea, no matter what the season. My kids are always getting scraped up and it's just convenient to have around if we need an antiseptic and some band-aids.
Food and Water. I'm not sure if it's just us but we always have a case of water in the back of my car. Between after school activities and other sports, someone is always thirsty so it's honestly more convenience than anything! Having a small supply of food (think easy like granola bars or snack mix) and some bottled water will help tide you over if you get stuck and end up having to wait for a tow truck or another vehicle to come along.
Kitty Litter or Sand. For as often as I hear this I've yet to carry sand or kitty litter in the back of my car. My mom has always had one or the other in the back of her vehicles throughout the years so I know it's not uncommon. I grew up in a very rural area and if I still lived that far out and not drive a 4WD vehicle I'd probably utilize this idea! Kitty litter and sand provide a decent traction under spinning tires once you shovel yourself out.