5 Michigan Themed Gifts Worth Buying
November 15, 2016
It's almost Thanksgiving. Can you believe it? The weather has been A-mazing the last few months and it's hard to believe Christmas is only a month and a half away. I've already started some holiday shopping for friends and family and my kids are already making out their Christmas lists.
I try to shop local as much as possible and Grandpa Shorter's always has some of the cutest and unique products and you're sure to find something for almost everyone on your shopping list. Most of the gifts they sell are also perfect for those that share the love and appreciation for our home state of Michigan. Plus, state themed products are all the rage right now, including mitten shaped like Michigan, popular Michigan themed graphic tee's and more! Keep it simply this holiday season and check out some of Grandpa Shorter's fantastic Michigan themed gifts!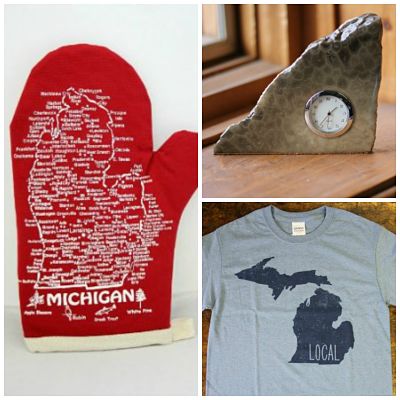 5 Michigan Themed Gifts Worth Buying
Michigan Local Tee – Perfect for the Michigan Local in your life, this t-shirt is versatile and unisex.
Michigan Cutting Board – This cutting board, shaped like the Great Lakes State is the perfect addition to any kitchen. It is also ideal for any cook from novice to professional.
Michigan Oven Mitts – These fun Great Lakes State shaped oven mitts feature Michigan's Lower Peninsula on one side and the Upper Peninsula on the other. Pair with a Michigan Cutting Board and you have the perfect gift for someone who loves being in the kitchen.
Petoskey Stone Clocks – Unique and beautiful, Petoskey Stone clocks make wonderful additions to any desk, shelf, table, or counter. They make great gifts, whether the person receiving the clock is perfectly punctual or chronically late.

Grandpa Shorter's also has a variety of unique children's books featuring Santa coming to Michigan!
Santa is Coming to Michigan Book – Santa is coming to Michigan this year kids! Spruce up your children's reading list this holiday season with this Michigan inspired Christmas book.
Santa Claus is On His Way to Michigan – A Michigan twist on a beloved Christmas tale, perfect for bedtime storytime during the holidays.
Santa's Sleigh is On It's Way to Michigan – Better watch out, better not cry, Santa's Sleigh is on it's way to Michigan in this thrilling Christmas adventure!