5 Reasons to Wear Grandpa Shorter's Fashionable Compression Socks
January 10, 2019
Winter is finally here for good and that means cold temperatures, ice and snow are all here to stay! For many of the cold winter months I can be found outside with my children and at our local ice arena. I love nothing more than bundling up in warm clothing, throwing on a hat, gloves and a scarf to hangout outdoors and watch my kids play hockey, figure skate and sled. We are definitely a cold sports kind of family.
Warm clothing is crucial during Northern Michigan winters. I often opt for snow pants even when I'm inside at Petoskey Ice Arena because once you get chilled it is so hard to warm up again!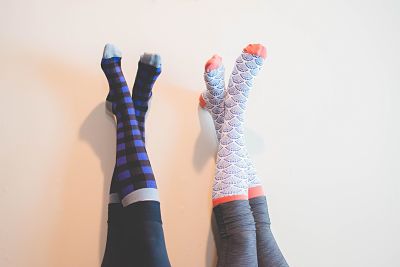 Ask any Michigander what they wear during the winter and I'm sure you'll get similar answers: warm socks, winter jacket, hat, gloves, scarf, etc. Winter dressing starts with the basics. You need good warm socks and undergarments to keep you toasty on those cold frigid days. Plus, you might just want to look good too!
Grandpa Shorter's has a great new line of compression socks from Vim & Viger perfect for Northern Michigan winters. They are warm, comfortable for all day wear and come in several unique colors and patterns.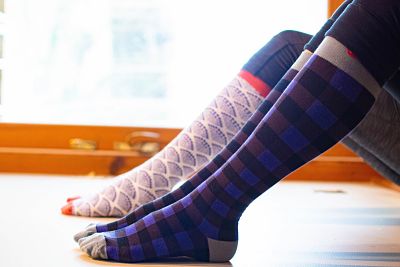 5 Reasons to Wear Compression Socks
Our compression socks are fun and fabulous! Do you have a dress code at work or maybe you just love fun and colorful socks. Our compression socks come in a variety of awesome colors and patterns so you can be as wild as you want!
Compression socks increase blood flow and oxygen in your legs. If you are on your feet for long hours at a time, compression socks help reduce soreness. Increasing blood flow and oxygen in your legs helps reduce lactic acid build-up in leg muscles. 
Compression socks reduce swelling in your legs. How many of us have gotten home from a long day at work and looked forward to a foot and leg from our significant other or the kids? Compression socks help reduce leg swelling so you can skip the leg rubs altogether. 
Compression socks are great for everyone including athletes. If your New Year's resolution was to start working out and eat healthier compression socks help all athletes regardless of what sport they play. Compression socks help force blood flow away from your feet and ankles back to toward the heart. 
Compression socks reduce veins. Do you have spider and/or varicose veins? I do and I am always looking for ways to reduce them! Because compression socks help blood flow more freely in your legs, they stop blood from pooling in your legs and help slow the progress of both varicose and spider veins. 
Testimonial: 
"I have a past history with superficial and deep DVT's but I travel often. When I flew to Germany, I was very nervous but the socks made a world of difference. My legs did not ache like they normally would after even a 4 hour car ride or flight to Florida. Now I wear them whenever I fly or take a car trip. They're fashionable, comfortable, and wash well." – Sommer
Have you checked out Grandpa Shorter's new line of compression socks? If not, they are available in-store and there are many styles and patterns to choose from!