50 and 60 Year Anniversary
June 13, 2021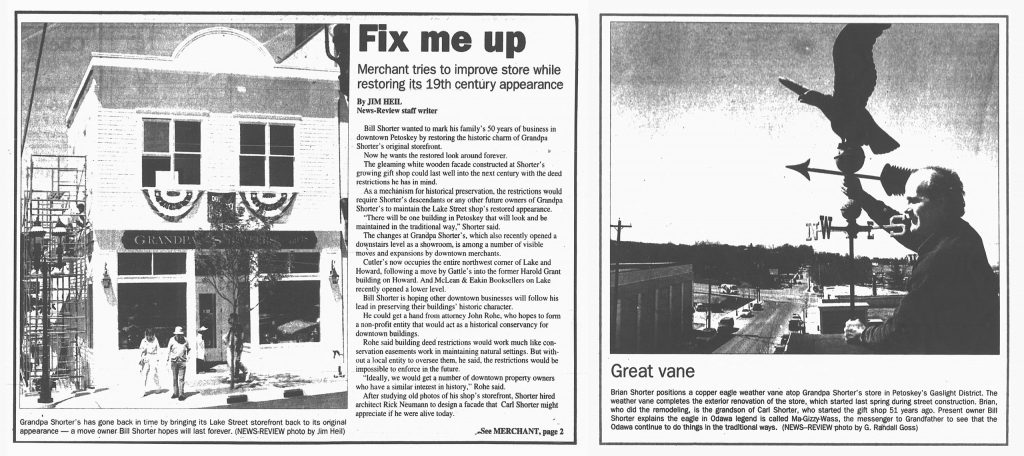 1996 marked the 50th anniversary of Grandpa Shorter's Gifts, as well as the renovation of the façade of the storefront to look like its original appearance. After a suggestion by my mom, Dad restored the historic look and put deed restrictions in place to ensure the historic preservation of the building would continue into the future. My dad hired a local architect known for historical preservation. The restoration was done by Brian Shorter, Carl's grandson. In a way, it was a nod all the way back to Homer Shorter, who did the molding and trim work on the Grand Hotel when it was built in 1887. Some things just run in the family. This transformation served a dual purpose of honoring our past and propelling our business into the future.
This renovation in 1996 included the transition of the basement into Trapper's Cabin, a 1,200 square-foot showroom, complete with pine floors and a fireplace.
'It's a family tradition and I think it's really amazing to get the second generation and third generation to take over a business, and I think we'll accomplish that,' Bill said.
In 1998 J.W. Shorter & Son Mercantile opened up the street from Grandpa Shorter's Gifts. We restored the building to its original 1880s look before opening on June 12.
To celebrate Grandpa Shorter's Gifts 60th Anniversary, a mural was painted along the building that faces Shopper's Lane. The mural depicts the three storefronts and the three generations of Shorters who have owned the business.