7 Watermelon Facts & Watermelon Sorbet Recipe
July 29, 2018
With summer being in full swing I love nothing more than heading to the farmers market several times a week. Monday's and Friday I tend to hit Coveyou Farm Market and Wednesdays is always a great day to head over to the Harbor Springs Farmers Market. I can find a delicious fruits and veggies straight from the farmer, no middle man needed.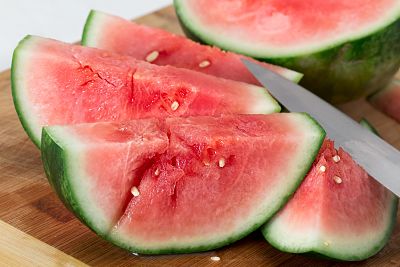 I adore all fruit but watermelon is definitely one of those fruits that make me think SUMMER! I could totally eat it year round but we almost always have it in the fridge during the summer months. My youngest loves watermelon slices and it's super healthy for you so I am more than happy to indulge too! Today on the blog, I'm sharing some fun watermelon facts AND a simple watermelon sorbet recipe.
7 Watermelon Facts
There are over 1,200 varieties of watermelon grown worldwide and four main categories of watermelon: icebox (mini watermelons), seedless, seeded and yellow/orange watermelon.
Watermelon can help with inflammation, diabetes, arthritis and more.
Watermelon is a naturally fat-free food that is high in vitamin A, C and potassium.
Watermelon is actually a vegetable and NOT a fruit! It's cousin's are pumpkins, squash and cucumbers.
Watermelon are completely edible including the rind and seeds.
Watermelons are 92% water.
Watermelons can grow to enormous sizes. The 2013 Guiness Book of World Records recorded  the worlds largest watermelon weighing in at 350.5 pounds, grown by Chris Kent of Sevierville Tennessee.
Our favorite way to enjoy watermelon is simply cubing it up or slicing eat and eat it as. Occasionally we enjoy it frozen so I'm sharing with you a simple way to serving watermelon on a hot day. This recipe is a refreshing change from simply eating watermelon by the slice.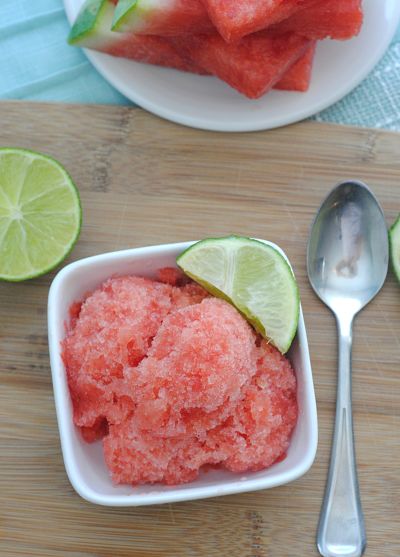 Watermelon Sorbet Recipe
Ingredients: 
2 C. watermelon, cut into chunks
Gallon freezer bag
1/2 lime, juiced
Sweetener to taste (optional)
Directions: 
Place the watermelon chunks in the freezer bag and place in the freezer overnight or for at least 5-6 hours.
Once the watermelon chunks are frozen place in a food processor and blend until smooth.
Add in the lime juice and sweetener to taste and continue to blend 30 seconds longer.
Remove from the food processor and serve immediately.
If not serving immediately, store in an airtight plastic container in the freezer.
*Please keep in mind, this recipe be be more frozen/slushy then creamy