A Healthy Go-To-Salad Recipe
October 7, 2015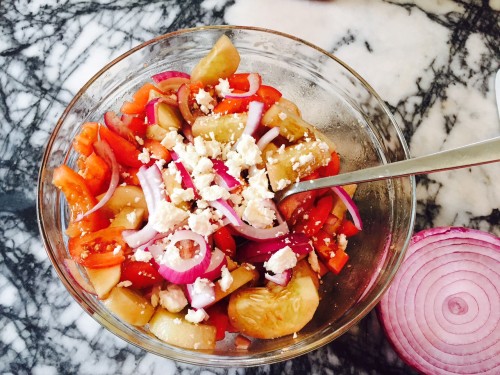 Everyone has their go-to salad recipe – this is mine.
We love this salad – it is something I can just throw together in a jiffy!  I generally have the ingredients in the fridge and it pairs with fish or meat so nicely – especially anything grilled.
Ingredients:
– Cucumbers
– Tomatoes
– Red Onion or Green Onions work too
– Feta Cheese
– You can also add Bell Peppers if you like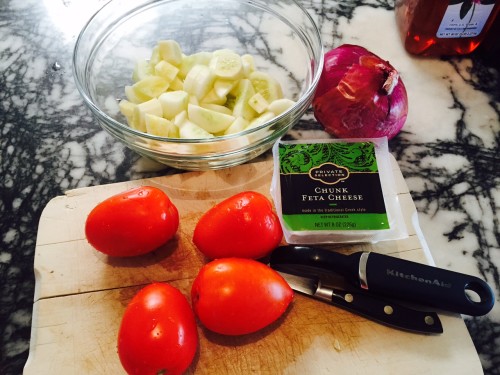 Dressing: 
– Honey
– Extra Light Olive Oil
– Balsamic Vinegar
Directions:
– Peal cucumbers and slice into half-moons, cut tomatoes into bite sized pieces, slice a few   circles of onion then cut into fourths and crumble feta over the top.  You can also cut bell peppers into bite sized pieces and add in as well.
Dressing:  Use a jar with a screw on lid – I like a mason or jam jar.  Pour 2 parts of extra light olive oil and 1 part balsamic vinegar then add a squirt of honey.  Shake up.
Drizzle the dressing over the top of the salad and mix together with a serving spoon.
I started using honey instead of white sugar in my dressings and it works just as well – so whatever you have on hand is great.  The sweetness just cuts the bitterness of the vinegar.
Happy cooking,
Alex Shorter
West Coast Shorter Wife