Antiquing in Northern Michigan
July 28, 2016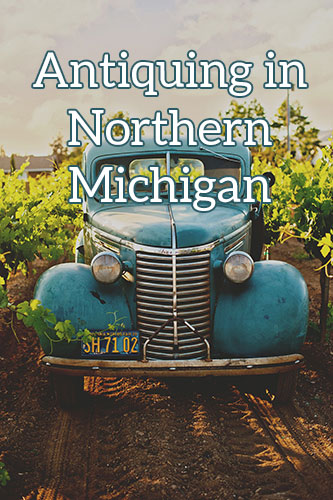 Do you watch Antique Roadshow religiously? Do you enjoy the thrill of the chase, always hoping to stumble on that priceless treasure of your own? Perhaps you simply like to fill your home with beautiful pieces from the past. Whatever your reason, if you love antiques, there's no better way to spend the day than driving the scenic roads of Northern Michigan, visiting the antique shops lining Lake Michigan's beautiful shores.
You'll find picturesque beach towns with historic buildings and cozy shops chock full of hidden gems. Friendly, knowledgeable proprietors will answer your questions, tell you stories and help you find exactly what you were looking for. After your treasure hunt, stop in at one of the many unique, local eateries you'll find along the way. And don't forget to leave time for a stroll along the beach.
Boyne City
Address: 02113 M75 N
Specialty – This shop features fine antique goods for the home, thoughtfully curated from estate sales.
Charlevoix
Address: 101 Bridge Street
Specialty – At this store, you'll find a selection of unique, vintage items, as well art from local artists and Michigan-made products.
Address: 06176 Old U.S. 31 South
Specialty – An extensive collection filling a barn from floor to ceiling with quality antique and cottage furniture. Find everything from antique wicker, Early American to European imports.
Address: 06932 US 31 S
Specialty – Record collectors will love this shop's collection of vintage vinyl. You'll also find unique antique items including art, figurines, kitchen and home accessories.
North Seas Gallery and Antiques
Address: 237 Bridge St
Specialty – This shop features late 19th and early 20th century antiques, art and furniture. Art lovers will enjoy their collection of works by local artists, Soviet era painters, and mid-century modernists.
Petoskey
Address: 329 Bay Street
Specialty – At this shop, you'll find a collection of antiques curated from around the globe including rare, authentic pieces of furniture, fine art, accessories, sports memorabilia, figurines, and wicker.
Joseph's World
Address: 2680 US 31 South
Specialty: This shop was voted Michigan's Best Antique Gallery by the Detroit News. Their collection is made up of nostalgic, unusual, and beautiful pieces appealing to a variety of collectors.
Address: 1901 M-119
Specialty: This shop specializes in antiques from France.
Then and Now Antique and Consignment Shop
Address: 101 Charlevoix Ave.
Speciality: An ever-changing, eclectic inventory of imported antique furnishings, wicker, collectibles, vintage jewelry, and designer bags.
Harbor Springs
Address: 220 State St.
Specialty: At this shop you'll find French country antiques personally gathered by the owners from the French countryside, primarily in the Provence and the Burgundy regions.
Elliott & Elliott Art and Antiques
Address: 292 E. Third St. · PO Box 751
Specialty: The carefully curated inventory at this shop is selected to appeal to both the collectors of traditional antiques as well as those looking for contemporary design objects.