Apple Bread – Delicious Fall treat
October 7, 2013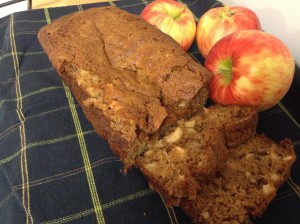 This past Sunday, Kaitlyn and I went out to my Dad's farm and picked apples. He has 18 trees, and they were loaded with apples. We picked for about an hour and picked several bushels worth. Left many more on the trees to ripen a bit more, but we are anxious to go back out and pick some more apples. Needless to say, we have been eating apples at every meal since then. Tonight I made the one comfort food that I am really good at making – Apple Bread. This recipe is in Mary Engelbreit's Autumn book written by Charlotte Lyons. My Mom gave me this book in 1996, the year I graduated from college. She gave me the book because of the pennant rug that is pictured in the book. I have collected vintage felt souvenir pennants from Michigan towns for years, and I love finding new ways to display the pennants. But, that's a story for another day! Back to the apple bread. I am not one to normally try recipes, but that apple bread looked promising to me that first year I was out of school and living on my own in my first apartment. I tried the recipe and it was a success. Every fall since, I have whipped up several loaves of this easy bread. I love to make a gift of the bread to my neighbors and at least two or three loaves go to my Mom and Dad, they did provide the apples after all!!
This recipe is a great way to use up some of the extra apples abundant in the autumn. I have made this recipe dozens of times, and I never pay attention to what type of apples I am using. It simply doesn't matter. They have all tasted great. This is also a good recipe to use apples that your picky kids won't touch because they are bruised or less than perfect looking.
Ingredients:
3/4 cup vegetable oil
1 cup white or brown sugar
2 eggs
1 1/2 cup chopped, unpeeled apples (about three small apples)
1/4 cup chopped walnuts
1 TBS grated lemon zest (optional) – I have never used the lemon zest – too much work for me and would require a zester – I'm not even sure what a zester looks like.
1 1/2 cup flour
1 TSP cinnamon
1/2 TSP nutmeg
1 TSP baking soda
1/4 teaspoon salt
Beat the oil, sugar, and eggs. Then stir in apples, walnuts and optional lemon zest.
Sift together the try ingredients and then add to the apple mixture. Do not over-mix. Pour into a 9″x5″ loaf pan and bake at 350 degrees for 55 to 60 minutes.