Apple Season in Petoskey!
August 21, 2023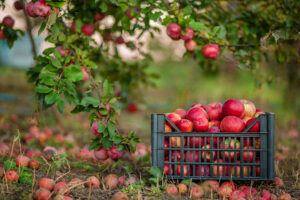 What is your favorite Michigan apple? It's a toss-up between Honeycrisps and Tangos around here, but really can you go wrong? We think not. And come early fall, the apple game is big around here. Be sure to get out and enjoy the sweet and beautiful harvest while you can. Prime apple season starts around mid-Sept and runs into October.
Here's a list of area orchards and what goodies you'll find on your outing:
4391 US-31, Brutus
Not far from Petoskey, Uncle Frank's is the perfect fall adventure. They have cider (pressed on site) and donuts and pies (made there, too!), along with hayrides and a corn maze. Come October, they have a haunted corn maze and a gazillion pumpkins to pick from. This place offers that small town, hometown feel that is the epitome of Petoskey living.
4450 E. Mitchell Rd., Petoskey
At this farm market, if it's in season, it's on your plate! They offer over 20 varieties of flowers, 10 kinds of herbs, and a variety of vegetables continually rotating through their 29 fields. At the peak of summer, Bill's famous peaches-and-cream sweet corn, potatoes and tomatoes are available, too. (AND all this fresh, home-grown goodness comes to you with a rich history—over 100 years' worth!)
Apples can come in as early as August from Altonen Orchards, located in nearby Williamsburg. They also have pumpkins, gourds, squash, hay bales and cornstalks as the fall winds toward Halloween.
A fun tip: Bill's Farm Market shares "how to pick" videos on their Facebook throughout the season. (Like this one on how to pick out a watermelon!)
4160 S. US 31, Petoskey
This farm market wows you from below and above. Housed in a gleaming, historic barn, with rays of sunlight streaming in, they have a plethora of farm market goodies within arm's reach– including, of course, apples.
For nearly 150 years, Coveyou Scenic Farm Markethas overlooked Walloon Lake and offers organic produce, local artisan creations, specialty foods, flowers, soil amendments, seasonal decorations, and more. Dubbed a "micro food hub," their Barn Market is a must-stop for local flavors, hand-crafted decor, eclectic art pieces and fresh grocery items. Look for state-renown vendors like Michigan Farm to Freezer, Great Lakes Potato Chip Co., and Ferris Coffee and Nut Co. right alongside hyper-local producers like Crooked Tree Breadworks, Ziibimijwang, and The Rustic Baker.
You can take a virtual tour via drone of this magnificent centennial barn here, but we insist you go in person. It is stunning and delicious.
10743 US-31, Ellsworth, MI
A little south of Petoskey, this place is a fave. They have several varieties of apples grown on site and U-Pick options starting in mid-September – a perfect day with the family, whether they like it or not. And may we suggest you try their new Apple Cider Slushie Sundae?
You can visit the fruit stand, go on a wagon ride, fly on the zip line, hang out on their huge playground, and eat your donuts and cider or brick-oven pizza and sandwich too. Enjoy locally made soft serve ice cream too!
Their website features several recipes to try with their local produce. Try this recipe for APPLE BUTTER CHEESECAKE SQUARES (all caps, on purpose!).
Country Apple Farm Market
8785 Horton Bay Rd., Petoskey | 231-348-9718
Stop in here for a taste of apples and other veggies in season. A local treasure and lots of deliciousness for the fam!
As summer gives into the glorious crisp air of September and the colors of October, it's harvest season! ENJOY!