Back To School Shopping Tips
August 18, 2015
Hi, everyone! Can you believe it's already mid-August? School officially starts in less than a month here in Northern Michigan and the count down has already begun at our house. The kid's day camp ended last week (wow, that went fast!!!) and now I'm in back-to-school mode. Most of the other kids that attend the camp live out of state and their schools are already back in session as of a few weeks ago. I was talking with a Georgia mom at pick up and she was telling me how the kids had already started school and how fast summer went. It was so strange dropping off and picking up last week because the place was literally empty as I'm thinking to myself 'It's still summer!!! It's not over yet!!' After their last day of camp I had a reality check, that school is indeed going to start fairly soon. We are so lucky to have most of our schools here in Michigan start after Labor Day so we can get out as much as we can from summer vacation but it will soon be fall so bring on the back to shopping tips.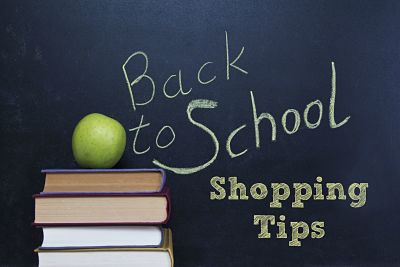 Today on the blog, I'm giving you some back to school shopping tips and pointers. I was lucky enough to spend the day alone in Traverse City over the weekend doing some school clothes shopping and yesterday I stopped into Grandpa Shorter's with my daughter and talked to the friendly staff about back to school products they have on hand. I put together some tips and guidelines for getting ready for the upcoming school year.
#1. Take Stock – This step is an absolute necessity. Take a few hours or set aside a day you can go through your kiddos clothes. Take note on what you have and what you don't need. This really is a crucial step. Last year, I accidentally bought double identical long sleeve t-shirts for the girls because I wasn't paying close attention. Not a huge deal as the shirts were less than $5 each and my girls wear the same size, however it wasn't exactly cost effective or smart shopping. We also live pretty rural and I felt it would have cost me more time and money to ship the items back.
Set aside the clothes your kids have outgrown and donate them or consider selling them on Craigslist or Facebook sale pages. Not interested in meet-ups? Trying consigning them. Then, use the money earned to buy new clothes and supplies for the new school year.
#2. Think a head – Shop sales, use store coupons and stock up when you see clearance items, any time of year, not just July and August. I knew my son wouldn't need a new backpack this school year but a month ago I was picking up a few items at Office Max and they had some awesome clearance deals going on: 3 pack of glue sticks for $0.50 and Swiss Army backpacks for only $15 (regularly $60!). I grabbed both and put the glue sticks in the school supply box and the backpack is tucked away in his closet for next year.
Also, if you go through markers, crayons, glue sticks, pencils and kids scissors like we do, check out the school supply clearance sales that happen a week or two after school starts. Grab items for next year and set aside.
#3. Buy used – For as much as I love Gymboree's matching outfits when they first come out, I also love a good deal. I shop sales and clearance as much as I can but I also enjoy finding the kids clothes at consignments stores which are generally reasonably priced and the items are often in great condition. We only have one major kids consignment shop here in Petoskey so that's when I turn to online consignment sites like ThredUp or Schoola. I've used both sites and the clothing quality has always been fabulous. Shipping is very reasonable and returns are accepted, no questions asked.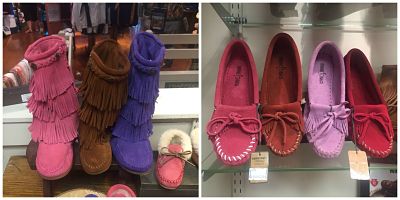 #4. Shop local – I am a huge supporter of buying local as much as I can. I always buy the kids winter boots and accessories at Bear Cub Outfitters here in Petoskey and we love the Minnetonka Fringe Boots at Grandpa Shorter's. They are so cute and go great fall skirts and leggings. The flats compliment any pair of skinny jeans. Have a tween or teen? Grandpa Shorter's and J.W. & Son Mercantile both have some really cute aceesories and scarves for the cooler weather a head.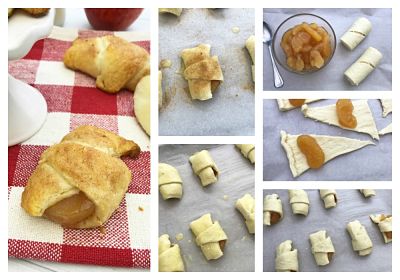 While browsing around the store, my daughter quickly fell in love with some of the school accessories and supplies shown above. Perfect for any little girl who loves to color and draw. I loved the Brain Quest activities that the helpful staff member showed me as well as the phonics books. The former teacher in me wanted them all.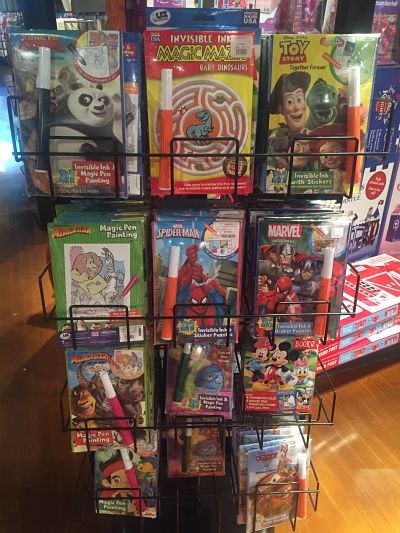 How about some fun activities for the dropping off and picking up commute or for the kiddos who ride the bus? I remember doing these as a kid (or something similar as I'm totally dating myself here), but they were so fun! Put those electronic devices away for a few minutes and get back to the basics!
I LOVE the idea of putting together a 'Back To School' basket for the kiddos with some Brain Quest activities, pens, pencils and an activity book or two. This would be a great idea for aunts, uncles or grandparents ::hint hint:: 😉
If you are interested in any of the products shown in today's post, feel free to stop by Grandpa Shorter's if you're in the area. Not local? No problem! Give the friendly Grandpa Shorter's staff a call at 231-347-2603 or connect with them on the Grandpa Shorter's contact page.
Do you have any Back To School Tips to share? We would love to hear them in the comment section below!