Brews in Petoskey
August 8, 2023
Petoskey has more than a few offerings for the beer lovers amongst us. With late summer days rolling by, it's time to quench our thirst and take a look at where to get a good beer around here…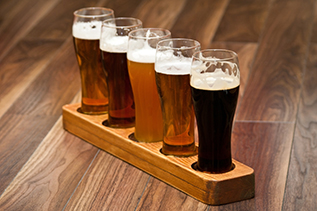 3379 Lake Grove Rd, Petoskey
Burnt Marshmallow Brewing is a nano-brewery in Petoskey – with the most charming name! This brewery uses ingredients grown on their 190-acre farm, Rudbeckia Farm, along with other local resources.
They aim for "unconventional" brews and offer seven rotating taps of handcrafted beer. Enjoy live music and the occasional bocce ball tournament with the beautiful farm as the backdrop. (Bonus – the farm also has a winery and they share a tasting room. Everyone in your group will be happy.) They also have honey on tap from their own bees!
A brew to try: Of course, S'More Porter – theirmost popular beer! This brew tastes like a smoky s'more prepared over a blazing campfire, made with milk chocolate, graham crackers and a mountain of burnt marshmallows. They garnish this beauty with a flaming marshmallow!
A bite to try: Kielbasa Sampler Cold Plate (Gluten Free). The owner, John Wysokinski, has chosen all his favorite Kielbasas for this sampler for a true taste of Poland, including hunters sausage, garlic sausage, juniper berry sausage and ham sausage. Plus Polish mustard, spicy cocktail sauce and rye rounds, garnished with unexpectedly beautiful nasturtium leaves.
1844 M-119 (Harbor-Petoskey Rd.), Petoskey
This building, known as the "Old Brewery," was built in 1898 and was used to brew Petoskey Sparkle beer until 1915. Over the years, it changed ownership and was used for a variety of businesses. It's a remarkable building that has now returned to its roots, home to Petoskey Brewing Co. since 2012. And it's still mostly in its original condition after 115 years – thanks to its walls that are 26 inches thick and made of red brick. A drink here is a step back in time!
A brew to try: Petoskey 1898 Lager. This American Light Lager is a homage to the original beer brewed by Petoskey Brewing from 1898 until 1915. Wheat and four special malts combine with three different types of hops to create a super clean, easy drinking lager. In addition, they have new beers just out that you'll want to try: Beach Slapped (pineapple and coconut wheat beer), Super Trooper (coffee and donut brown ale), and Oktoberfest Lager coming this fall.
A bite to try: Try their "Smokin Betty" smash burger on a brioche bun. Topped with pepper jack cheese, diced jalapeños, Plath's bacon and chipotle mayo. (Plath's Meats has been serving up fresh sausage, poultry, fish and pork for 109 years in Petoskey – they are famous for their pork loins… and bacon!)
425 Michigan St., Petoskey
Here's a fun spot to quench your thirst and get a different bite to eat every time you visit. The Back Lot hosts six food trucks on site – offering everything from tacos to pizza to cheese curds. Then head out back for a drink at their outdoor truck bar. The outdoor seating area welcomes pups and offers all-natural dog treats for purchase from local business, Petpawps.
A brew to try: Great Lakes Edmund Fitzgerald Porter. (Read more on the history of this freighter that sank in Lake Superior when the gales of November came early and all crew members were lost). This brew is a robust and complex dark ale with roasted barely and bittersweet chocolate coffee notes.
A bite to try: Cheese & Co.'s grilled cheese sandwiches. Try "Mike's Favorite" with
ham, bacon, white cheddar, American cheese and Mike's Sweet Mustard, served on Detroit Multigrain with clarified butter.
215 E. Lake St., Petoskey
Founded in 2012 by two Petoskey locals, this brewery now has a new home on the edge of downtown Petoskey with 24 taps on offer – and they brew on site! In addition, they offer a full, locally-inspired food menu with pub favorites like pizzas, sandwiches and wings. Their motto is "North of Normal" and it shows in their creative labeling and beer names!
They also have the Root Cellar, their basement Community Beer Lounge. Grab a drink, listen to tunes and lounge. They host a local Homebrew Club down in the Root Cellar once a month to talk about all things fermented. Everyone is welcome!
A brew to try: "Tyde-One-On" (with a tie-dye color theme). This is a bold Barleywine with flavors of raisin, caramel and roasted malt. Or try their playful "Green Hundo" – dubbed the greatest IPA on planet Earth, made with 100% Centennial hops from MI Local in Williamsburg, Mi. Citrus, pine and orange zest come through in the nose and flavor, with a solid malt backing.
A bite to try: Peppadew pizza – with pepperoni, peppadew peppers, garlic cloves, basil, cheese blend and house marinara sauce. Delish!
422 E. Mitchell St., Petoskey
This local fav features 30 rotating taps of the most sought-after brands – a paradise for beer enthusiasts of all stripes. TAP30's full kitchen offers unique comfort food with a twist. Each plate is a tiny masterpiece – and of course, the brews go on for miles. This place might be just as famous for its food as its brew!
A brew to try: Cheboygan Brewing Co,'s Blood Orange Honey. Try this Wheat Ale with honey and blood orange zest made in nearby Cheboygan. Another goodie is the popular Prairie Artisan Ales "Blueberry Boyfriend" – which is a little sour! (Perhaps you know the feeling!)
A bite to try: Their fried Chicken Sandwich is a local favorite: Korean style batter, jalapeno honey, Claussen pickles, bibb lettuce, and Duke's mayo, on a potato bun and served with crispy fries. They also have new three smash burgers for your beer matchup: Detroit Smash, Bacon Smash and Chicago Smash.
Enjoy the brews and bites of Petoskey – there are these and many more to enjoy!